Want to learn SEO and be a search engine optimization expert? We have good news for you. You can learn SEO free of cost and from the comfort of your home. I have created a step-by-step guide to learning SEO for beginners.
After completing this SEO guide you will have a basic understanding of SEO. The best way to master SEO is by implementing what you learn. You should start a blog and practically put in place the SEO techniques you learn.
Here is the list of topics that we cover in this learn SEO guide for beginners.
I once again remind and encourage you to create a blog. SEO is a practical skill, you will need a web property to put in place what you learn. So that your learning becomes permanent.
SEO Basics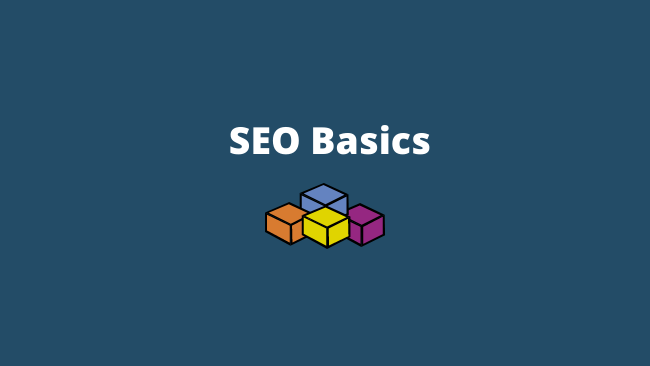 Let's start with the SEO basics that you need to understand before moving on to more complex topics.
What is SEO?
SEO stands for Search Engine Optimization (SEO). It is the process of improving a site to rank it higher in search engines. A higher ranking in search engines means more traffic and conversions.
The goal of search engine traffic is to drive organic traffic. It does not include paid traffic or PPC optimization. Search Engine Marketing is a broader term that covers both SEO and PPC. That is both paid and free methods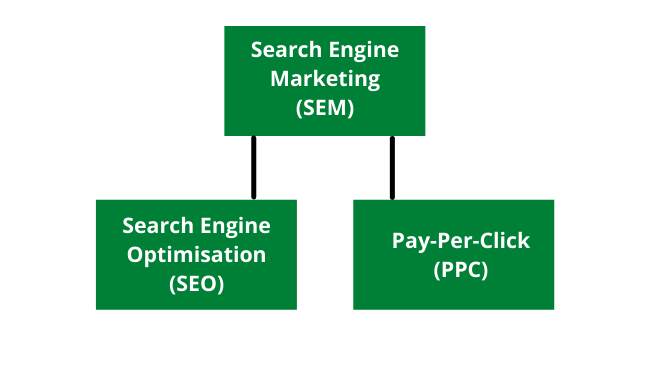 Nowadays, if we need a piece of information. The first place we look forward to is the search engines. It's the best way to find information in the least possible time.
It doesn't matter whether you are selling a product, offering a service or running a blog. You want your site to rank on the first page of Google. That's why search engine optimization is so important for online entrepreneurs.
In short and simple words:
SEO is a set of actions to make Google love your content and rank it higher in the search engine result pages (SERPs).
Different Components of SEO – SEO in Brief
SEO is a combination of many different components. You should have a good understanding of these key SEO concepts. The main components that form the base of SEO knowledge are: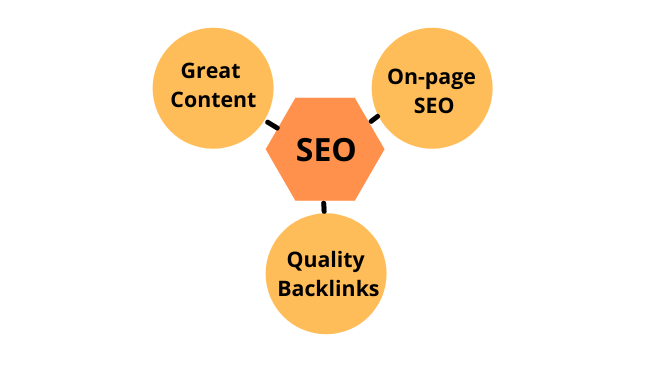 Great Content – " Great Content is King". Quality content attracts visitors and backlinks. It catapults your site to the top of the search engine result pages.
On-page SEO – On-page SEO refers to the set of actions that amplifies the quality of content. It helps in improving the visibility of the content in the search engine. We will discuss it in detail in the paragraphs below.
Quality Backlinks. – Backlinks are votes from one site to another. Backlinks from authority sites have more weightage than others. If you create great content and do a proper on-page SEO. It will attract quality backlinks.
SEO Glossary of Terms
The best way to speed up learning is to understand the common terms or vocabulary of the topic. Here are some of the common terms in SEO.
On-page SEO – These are a set of activities you do on the page to optimize it for search engines. The goal of these activities is to optimise content both for readers and search engines. A few of the on-page SEO activities are:
Keyword research –
Meta-tag optimisation
Title tag optimisation
Optimizing the content
Building internal links
Off-page SEO – These are a set of activities that we carry out away from the page for optimising it for SEO. These actions are part of Off-page SEO. Some of the Off-page techniques are:
Guest blogging
Social media engagement
Search Engines
The search engines led to the growth of search engine optimisation. Thus it's important to understand search engines and their workings.
What are Search Engines?
A search engine is a software tool for carrying out web searches. It fetches information from the world wide web. It presents the information in a systematic textual format. This format is the search engine results page (SERP).
When a user makes a query in the search engine. The search engine scans the content of the websites. For e.g, webpage titles, keywords and other related terms.
The results depend upon the analysis of the web pages by the search engine algorithm. The search engine algorithm then ranks and displays the results.
How do the Search Engines Work?
Search engines navigate the web by following the links and downloading the web pages. Although, the working of the search engines differs from one another. But the underlying principles are the same.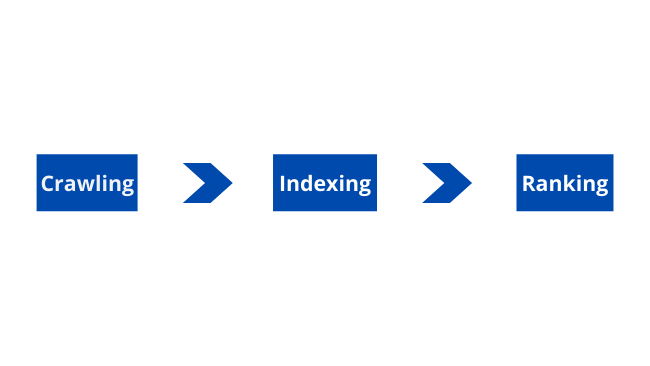 Search engines work on 3 basic principles:
Crawling – The search engines find new pages on the web using a process known as crawling. The search engine bots keep looking for fresh content using this process. When the crawler finds new content it stores the content on its web servers for indexing.
Indexing – Indexing is the process of validating and storing the content in a database. This database is a huge library of websites. It's popularly known as the "Index". The indexing leads to the next step known as ranking
Ranking – Ranking is the process of searching the index. During the process, the search engines find and create a list of web pages. These web pages appear in the search engine result pages (SERP). Search engines have many ranking factors to rank the pages in their index
What are the Ranking Factors?
The ranking factors are the ranking signals for search engines. They use them to find the most relevant results for a query. Ranking factors help search engines in deciding the ranking of a webpage in the search engine result pages (SERPs).
Nobody exactly knows what the actual ranking factors are. It's a best-kept business secret by search engine companies. It gives them an edge over their competitors. There is an estimation that Google has about 200 ranking factors.
What is a Google Search Algorithm?
The Google search algorithm is a program to rank the search pages using a specific set of parameters. This algorithm is a combination of many different algorithms. Each algorithm caters to a specific set of ranking factors.
Keyword Research
Keyword research is the first step in search engine optimization. It solves the two common issues of your site.
Finding and Exploring Niche – A good site should focus on a specific topic. Keyword research helps you uncover the most searched terms in your niche.
Generating Content Ideas – Keyword research helps you uncover the most profitable keywords. So you can create a content strategy around those keywords.
How to Find Keywords?
There are many ways to find keywords.
You should always start with a seed keyword. The seed keyword is a broad term that describes your niche. For e.g, if your niche is internet marketing, "internet marketing" is a seed keyword for you. The seed keywords help us uncover more keyword ideas.
Google SERP provides you with a huge list of keyword suggestions. Google offer keyword suggestion features. For e.g, Google Autocomplete, People Also Ask and Related Searches
Google Autocomplete
When you start typing a keyword in the Google search. It provides you with automatic keyword suggestions based on real-time searches of visitors.
You can create a huge list of keywords by experimenting with your seed keywords. Try adding alphabets after or before your seed keyword. This will give you more autocomplete ideas.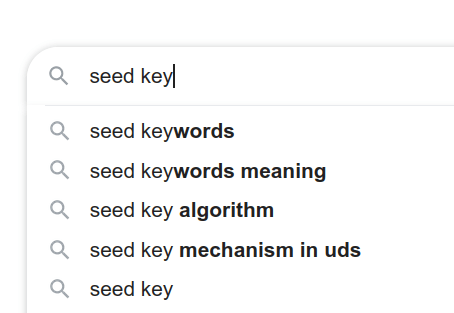 People Also Ask
Google has a rich snippet feature known as People Also Ask. It contains additional information for you while making a specific query. These results appear in the form of questions with answers in drop-down format. People Also Ask appears below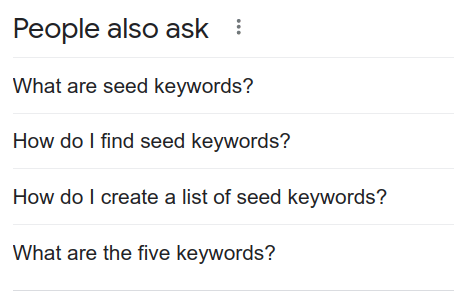 Related Searches
If you scroll down to the bottom of the search engine result pages (SERPs). These suggestions are actual search queries that people are searching on Google. Related searches as shown below.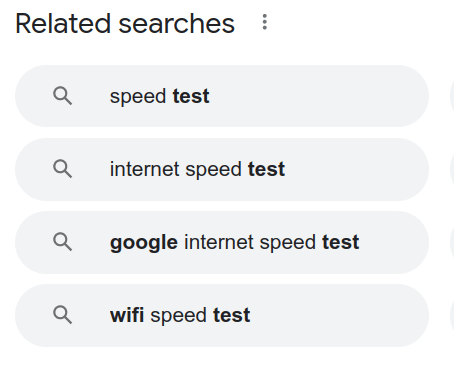 Keyword Tools
Keyword tools help you find tons of keywords from a single seed keyword. Some of the keywords like Google Keyword Tool are free whereas for others you have to pay.
The keyword tools have many different keyword metrics. The keyword metrics help you in deciding the best keywords for your site. These tools give you a competitive edge over your competition. They also save a lot of time in keyword research. Check out the tools I recommend.
You can use these keywords tools in two ways to start your keyword research:
Using a seed keyword or keyphrase
Use your competitor's URL or domain.
Here is how it's done in the Google Keyword Tool:
Keyword Metrics
We aim to look for keywords relevant to our niche. These keywords should have low keyword difficulty and high search volumes. Let's discuss some of these keyword metrics.
Search Volume
Search volume is the number of people searching for a particular keyword. High search volume means the keyword is popular and more people are searching for it. But a high search volume does not mean a profitable keyword.
Keyword Difficulty
Keyword difficulty scores in numbers from 0 to 100. If the score is high you will have high competition. It will be hard for you to rank on the first page of Google
Keyword Relevancy
Keyword relevancy shows the relevancy of a keyword to the search engine result pages. A SERP analysis can help you in finding out the relevancy of your keyword. Here is how to find out the relevancy of the keyword.
Do a Google search using your keyword. Go through the first ten results. Now, analyse the results. Are they relevant to your keyword?
You should target the keywords that are easy to rank. To do your job easily you can check out the keyword difficulty score. If you see a lot of videos, social media or low-authority sites. It's a sign of a keyword with a low difficulty score.
Search Intent
Find out the search intent of the keyword you are targeting. If you don't know about search intent. Go through the article about what is the search intent. In short, there are four different types of search intent types:
Informational Intent – A search for more information on a topic.
Transactional Intent – When a user is ready to transact or buy something.
Commercial Intent – Here the intent is to research rather than buy the product
Navigational Intent – The user is searching for a specific website or brand.
Here are some of the examples for each type of search intent:
| | | |
| --- | --- | --- |
| Search Intent | Example | Type of Content |
| Informational Keyword | How to do keyword research? | Blog post, Video |
| Transactional Keyword | Buy Addidas Shoes | Product page |
| Commercial Keyword | Ahref Keyword Tool Review | Buying guide, Product review |
| Navigational Keyword | Google Keyword Planner | Site homepage |
Search Intent with example and type of content for each type of search intent
Now, plug the keyword into Google and look for the type of results that appear. If you see a lot of product pages. It's a sign that your keyword is of commercial intent.
You can check the intent of the keywords and plan a content type for it.
Content Optimization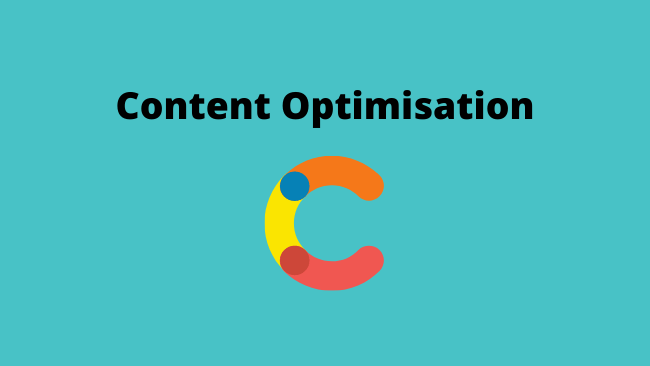 Search engine optimization (SEO) starts before the creation of your site. SEO helps in coming up with a proper content strategy. Thus, Content optimisation is an important component of search engine optimisation.
Keyword research should be the first step in creating a website/content. It helps you in choosing a niche and finding out the main categories of the new site. It gives you a roadmap for planning and organising your site structure and content.
The Hub and Spoke Content Strategy Model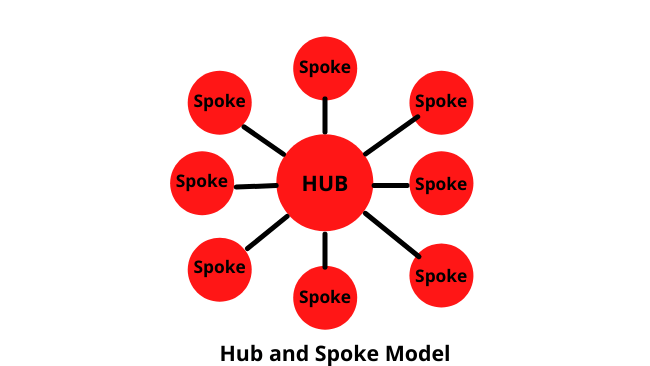 We have already covered the keyword research process above. Here we will discuss how to come up with the structure and content of your site. The structure that we are talking about is the content hub and spoke model. We will also generate a list of articles for our editorial calendar. This single exercise can ensure the long-term success of your site.
With proper keyword research, you get a huge list of keywords. Next, arrange the keywords into 3 to 4 broad categories. These will form the major categories or hubs of your site structure.
After creating the broad categories. Further, sort the keywords in each category into sub-categories. You can do so by grouping all similar keywords. The resulting set of keywords are the spokes of each hub
As you complete the above exercise you will have a site structure and a list of content ideas. While creating content follow the thumb rule of one keyword – one topic. Thus, group all the similar keywords together.
With 3-4 major categories or hubs and let's say 10-12 keywords as spokes in each category. You have a hit list of 30-40 blog posts or articles. Which will give you a good start in the initial stage of starting a blog or website.
The content hub and spoke model contain two types of content.
Pillar Content – The hub or major category of the content hub and spoke model. The hubs target a broad keyword. This type of content gives an overview or broad idea of the topic.
Cluster Content – The spokes are also known as staple posts. They support the hub and cover a specific idea or topic in detail
Benefits of Hub and Spoke Content Strategy
The major benefits of the hub and spoke content strategy are:
You have a proper site structure and the initial list of content ideas. It also ensures that you cover all the keywords in your niche
Your site covers all the important topics in your niche. Thus, it will provide value to your readers. They will get all the information in a single place.
Comprehensive coverage of a specific niche gives you topical authority. The search engines will give more weightage to your site in that specific niche.
Now, pick one focus keyword and start writing the blog posts. Don't forget to optimize it for the focus keyword.
Using the Focus Keyword
It's time to hit the keyboard and start writing our first SEO-friendly article. Don't forget to optimize your article for the focus keyword as below:
URL – The URL of your blog post should be easy to read and short. If someone links to your page using the URL, the backlink includes a focus keyword.
Title tag & Meta description – Include the focus keyword at the start of the title and meta description.
Headings & Subheadings – You should use the focus keyword in H1 tags and if possible in H2 tags.
Body text – Use the focus keyword in the body of the text a few times. Use the keyword in the flow of ideas. Do not try to force the focus keyword.
The image metadata
The image metadata includes:
Title of image
Filename of image
Image caption
Image alt text.
The image alt text is useful for impaired visitors. It also helps crawlers as they can't see images. Thus, image alt text is most important for search engine optimization (SEO).
Anchor Text of the Internal Links
You should interlink your blog posts using hyperlinks. When linking use the focus keyword as anchor text. The anchor text is the visible text that we click on to navigate to another webpage.
You should use the focus keyword in a natural way. Otherwise, it will look unprofessional. It will not provide a good user experience for the visitors.
Try creating content that provides 10x more value than your competitors. The content length should exceed that of your competitors. The length of the article will be more when you provide extra value. Your target should be 1500-2000 words.
On-page and Technical Optimization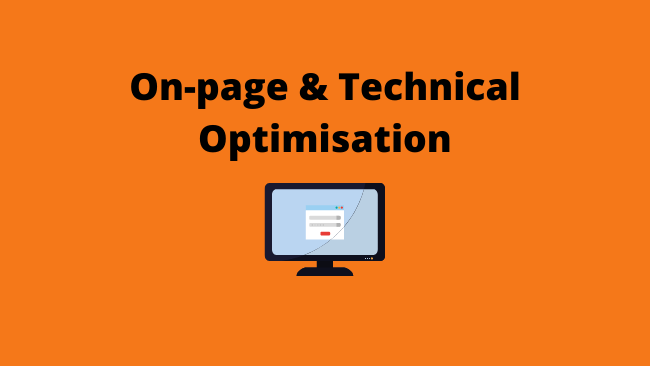 We covered on-page optimisation in the previous section. Here we will cover the technical on-page optimizations.
Let's start with Title tags and meta description
Title Tags and Meta Description
The title tag and meta description appear in the search engine result pages (SERPs). A good title tag along with a well-written meta description entices the user to click. Thus, it improves the CTR or click-through rate of your article.
While writing a good title tag and meta description keep the following in mind:
Use the Focus Keyword
You should use the focus keyword in the title and meta description. If possible try to include the keyword at the start of the title or meta description.
Limit the length of the title tag to 600px and the meta description to about 960px. Google truncates a longer title or meta description.
Image Alt Texts
The image alt tag is text embedded in the HTML code of a webpage. It describes the content of the image. The text appears in place of the image if the image doesn't get loaded.
Do not stuff your keywords in the alt tag. Use 5 to 10 words to describe the content of the image.
Sitemaps
A sitemap is an XML file that contains URL links with more metadata. Search engine bots can crawl all the content using the sitemap. They provide a map to the search engines to navigate your site.
There are many different ways to create a sitemap for your site. I recommend using the Yoast SEO plugin.
After creating the sitemap submit it to the Google Search Console (GSC). Paste the sitemap under the Add a new sitemap in Google Search Console > Sitemaps
HTTPS
Google is giving a lot of emphasis to the security of the sites. Thus, an SSL certificate is a must for your site. You can generate and install a free SSL certificate.
Internal Linking
Internal linking is an important aspect of SEO. You should ensure a good internal linking structure for your site. The thumb rule is any page should be at the most 3 clicks away from the homepage of your site.
Here are some of the benefits of internal linking:
Improves UX and User Engagement – Interlinking your pages using anchor text helps in easy navigation for visitors. This will lead to better user engagement and visitors will spend more time on your site.
Better Website Crawlability – When you interlink all your posts and pages on your site. Search engine crawlers are able to find all your content. It improves your visibility and faster indexing of your content.
Improves Search Engine Rankings – Internal linking passes the link juice within the post and pages. A page with a lot of relevant and descriptive internal linking ranks well in search engines.
Mobile-Friendliness – Google search engine uses mobile-first indexing. It gives priority to the mobile version of the website than to the desktop version.
A mobile-friendly site includes the following:
A responsive theme and layout
Mobile menu for your site.
A font that is easy to read on mobile
Highly compressed images for mobile
Page Speed
Nobody likes waiting for a page that is slow loading. Thus, page speed forms an important part of the technical SEO and UX factor. Page speed is one of the most important ranking factors.
There are many page speed tools. You can use these tools to find out the loading speed of your site. Some most popular ones are:
Google PageSpeed Insights
Pingdom
GTMetrix
If you have a WordPress blog. You will find the tips useful in our ultimate guide to WordPress speed optimisation
To improve your page loading speed you do the following.
Buy high-quality web hosting
Use AMP
Implement caching
Optimize/resize/compress your images
Limit third party-scripts
Featured Snippets
The featured snippets appear above the first 10 search results. It's also sometimes referred to as the zero position. The feature snippets directly answer a user's query or question.
A featured snippet helps you outrank your competition. Even when your page is appearing lower in the search results.
The 3 main types of featured snippets are:
List – The content is a list of things. A step-by-step instruction to complete an action.
Paragraph – A short answer to who, why, when, what and how type questions
Table – To present or compare data in an easy way.
Off-page Optimisation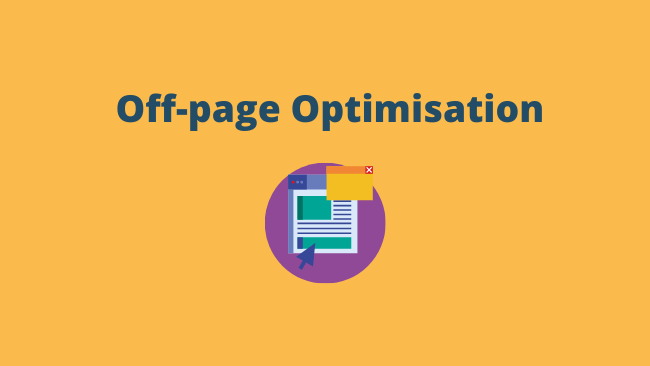 The off-page optimizations are a set of actions outside of our website. These actions help in improving our keyword ranking on the search result pages. The major component of off-page optimisation is building backlinks for SEO.
Let's start:
What is a Backlink?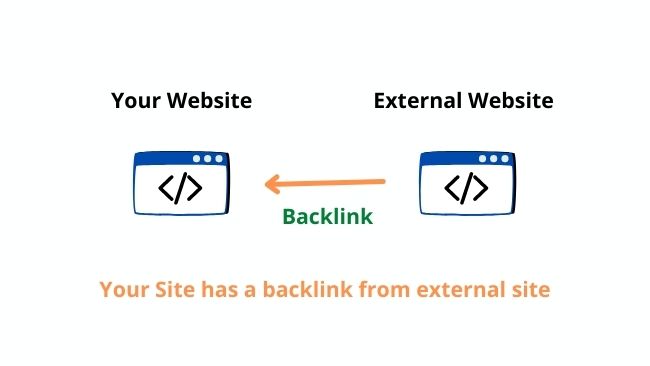 A backlink is a link from one webpage to another. When page A links to page B. We say Page B has a backlink from page A.
The quality and quantity of backlinks to a webpage affect its rankings.
Backlinks are one of the most important search engine ranking factors. The basic premise here is more people link to a valuable and trustworthy post.
What is Link Equity?
Link equity or link juice is the authority that a page transfers to another page linking to it. Dofollow links pass link equity whereas nofollow links do not pass link equity.
What are Different Types of Links?
There are many different types of links. The most popular ones are:
Internal Links – An internal link is a hyperlink from one page to another page on the same site.
External Links – An external link is a hyperlink to an external website from our website.
Dofollow Links – A standard link that passes link equity to the linking page
<a href="https://startblogpro.com">StartBlogPro</a>
Nofollow Links – When we add a rel="nofollow" attribute to the dofollow link code. It becomes a nofollow link.
The nofollow links tell the search engines not to pass the link equity to the linked pages. These types of links appear in:
Sponsored and Affiliate links
Links in comments
Links on social media and third-party content sites.
With all discussion above you should not infer that nofollow links do not have any value. You need nofollow links to diversify your link profile.
Here are some of the benefits of using nofollow links
Diversifies Link Profile – A site should get both nofollow and dofollow links. Only dofollow links will make it appear unnatural.
Drive Traffic to Your Site – Nofollow may not pass the link equity to your site. But at the end, it's a link that people will click and come to your site.
Helps Google Understand Your Content – Google uses nofollow links to understand your content and analyse links.
What are Link Building Strategies?
There are various types of link-building strategies. But here we cover the ones that give you the most value.
Some common link-building strategies are:
Create Unique and Valuable Content
The best way to get backlinks is to create unique and valuable content. Any valuable content can be a linkable asset. Some of the most useful content that is perfect for link building are:
Listicle resource
Ultimate guides
Directories
Unique research and data
Guest Posting
Guest posting is one of the most popular link-building techniques. The guest blogger writes a post for another site. The post links back to his own site. The owner of another site gets free content and the guest blogger gets a link to his site.
You need to find blogs in your niche accepting guest posts. A simple Google search with search operators can help you find relevant blogs. For e.g, "Your Niche" + "Write for us".
Once you zero in on the blogs, go through their guest post guidelines. Then go ahead and contact the owner with your guest post pitch.
Spy on Competitors' Backlinks
Find out the backlinks of your competitor using a backlink analysis tool. Before pitching your content to the site link to your competitor's site.
Link relevancy – The backlink should be from a page relevant to your blog post.
Link Strength – The authority of the linking page. Higher the better.
Difficulty – How difficult will be to get the same backlink.
After ensuring all the above. Do an email outreach to contact the owner of the website.
The Skyscraper Technique
Brian Dean from Backlinko talks of the skyscraper technique. The technique involves writing 10x times better content than the top-ranking content.
Find all the backlinks of the existing competitors' content and ask them to link to your content instead.
Some other link-building techniques that you can use are:
Backlinks from social media sites – Promote your content on social media. For e.g, Facebook, Twitter and Pinterest. Join the social media discussion and keep commenting on the relevant threads.
Q&A sites and Forums – Find the relevant and active forums in your niche. Help others and wherever necessary drop a link to your site. Similarly, post answers on Reddit or Quora with your links wherever required.
Broken link building – Search for broken or dead links on another website. Then ask the owners to link back to your site.
Write Testimonials – Ask to write a testimonial for a product or service by linking to your site next to your name.
Brand Mentions – Use Google Alerts to find your brand mentions. For each non-linked brand mention, request the owners to add a link to your page.
Read: How To Use Pinterest For Blogging?
Conclusion
Search engine optimisation is a combination of many different activities. The SEO process starts long before we start creating our site. It helps in coming up with the structure of our site and the content ideas.
The SEO process starts with keyword research. We use a seed keyword to find the various keywords. These keywords form the categories and the content ideas for the new site
On-page SEO involves all the search engine optimisation carried out on the web page. Off-page SEO includes activities carried out away from the web page.
We have covered various on-page and off-page SEO strategies. This post is a starting point in your journey to learn SEO free. You should now dive deeper into each of the topics discussed above.
I hope that you find the article interesting. Let me know in the comments below