Nobody writes a blog post…
Yah! You heard it right!
You never write a blog post, you assemble it.
After you generate unlimited content ideas for your blog. You pick a post idea and gather a ton of information. Including sources, facts, concepts, data, keywords and anecdotes.
But, when you sit for writing. You are clueless about where to start. Here is how you can go about it.
Start by creating an outline of the blog post.
An outline helps in planning your post. Provides a plan of action. Avoids the writers' block and gets you going. It also helps in creating a solid blog introduction and conclusion.
In this post, we discuss how to write a blog post outline. Different methods of creating outlines and tips for creating great outlines.
Here are the points covered in this post:
Read: How To Start a Blog?
What is a Blog Post Outline?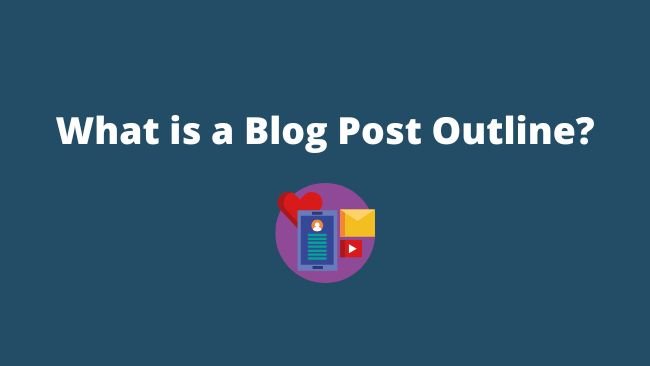 A blog post outline is the basic structure of your blog post. It helps you organize your ideas. The major topics are the subtopics. Under these subtopics, there are sub-sub topics.
It helps both the readers and the writer. The writer uses the outline as a signpost to keep them on track. It helps the reader in consuming the content.
Here is a blog post outline example from this post.
Title: How to create an outline for your next blog post?
H2: Introduction
H2: What is a Blog Post Outline?
H3: Define Post Outline
H3: Blog Post Outline Example
H2: What is the Importance of an Outline?
H3: Why Outline?
H3: Benefits of Outlining
H2: Different Ways of Creating an Outline.
Brain Dumping
SEO Writing
Bookends Method
Stack and Pack Method
H2: Conclusion
I follow this blog post outline template for creating blog posts.
With the blog post outline meaning out of our way. Let's discuss the importance of creating an outline.
Why Create an Outline for a Blog Post?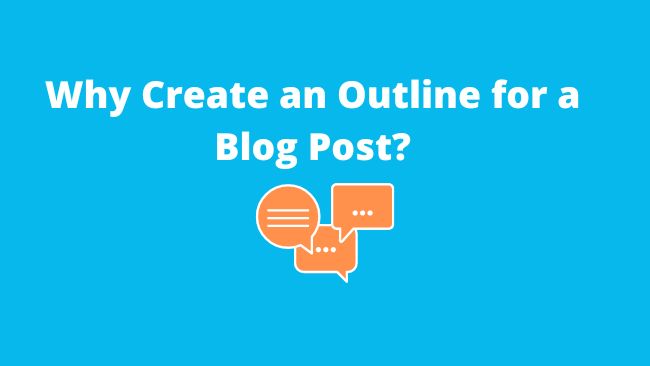 It is better to create a blog post outline before you start writing. It provides you with a roadmap for writing a blog post. Creating a blog post outline helps avoid writer's block.
Here is the list of benefits of creating an outline for blog posts:
Outlining saves time
Makes you a better writer
Keeps you on track
Protects from wandering thoughts
Avoids writer's block.
Better research for a blog post.
Find the missing or weak points.
Easy to read and digest the content.
Improves the content readability
Covers all the points.
Reach the word count goal.
Creates a logical flow of ideas
So. you now know the importance of outlining the blog post. Let's find out how to create the post outline.
How To Create a Blog Post Outline?
A blog post outline is a great tool to write a blog post. A blog post outline will help you organize your thoughts before you start writing.
You can also use it to plan out what information you need to include in your post.
Here's the basic method of how to create a blog post outline.
Start with a title. This should describe the topic of your post. For example, "How to Create a Blog" would be a good title for a post about blogging.
Write down the main points you'll address in your post. These could be tips, advice, or even a list of questions.
List subtopics that relate to each point. For example, if one of your points is "how to set up a blog". Then you might add subtopics like "what software to use," "where to host your blog," and so on.
Organize these points in a meaningful flow. Remove unnecessary details and revise the outline
Add links, examples and data supporting the points.
Include your personal experience or knowledge for personalisation.
What are Different Ways of Creating a Blog Post Outline?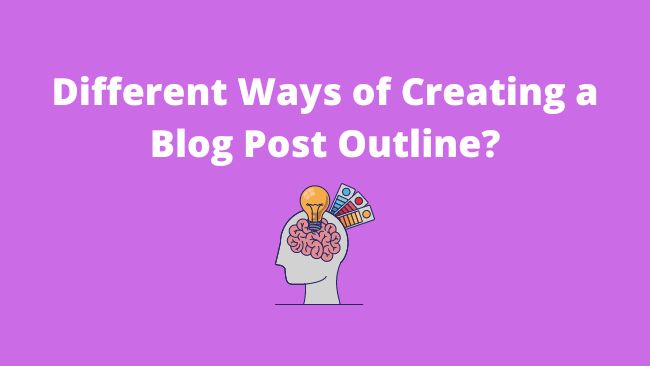 There are many ways of creating a blog post outline. Use one of these methods in making an outline for a blog post.
Let's start with the first method:
Brain Dumping Method
The Brain dumping method involves writing your thoughts and ideas on paper. You can use it to capture your thoughts and experiences related to a topic.
Here is how to create an outline using the brain dumping method:
Sit in a quiet place with a piece of paper and a pen. Write down everything in your head. write without filtering your thought process. Don't worry even if your writing doesn't make sense. Dump the ideas on the piece of paper.
Find out the main theme from the brain dump. Use it to come up with a working title for your post. You can optimize the blog title after writing it.
Sort brain-dumped information. Pick out the main ideas and create an outline for your blog post.
Arrange these points in a meaningful sequence. It provides a flow to the blog post.
Use the left-over ideas as sub-sub topics. Completing the outline for your blog post.
Now you can add links, data supporting the points, and examples.
Personalize the content with your personal experiences.
Get busy writing your first draft.
SEO Writing Method
This method uses a search engine optimization process in creating an outline. Here are the steps for creating an outline using the SEO writing method:
You should do keyword research. It helps you find the high volume and low competition keywords.
Create a working blog post title by including the keyword. You can refine the blog title after completing the post. It's the H1 heading of your post
Generate related keywords from the focus keyword. Consider using keyword tools like Answer The Public to make your job easy. Pick the phrases and questions related to your main keyword.
Assemble the key questions and phrases in a meaningful way. Thus, creating an outline for your blog post. The subtopics in this outline are the H2 headings.
Use the leftover phrases as sub-sub topics. They support the main points of the outline. They form the H3 headings of your blog post.
Include examples, data, and links to the points.
Use personal experience for personalisation of the reading experience.
Now, the structure of the SEO blog post is ready. Start writing the first draft of your post. Don't forget to include the secondary keywords in your copy.
Bookends Method
A bookend is something that supports a row of books on the shelf. It is something that comes before and after.
In this method, we write the first and last part of the blog post first. Then we fill the space between the two.
Here is how to use the bookends method to create an outline.
State the problem you want to solve with your post. The problem statement marks the beginning of the article outline. It will be the first step of your outline
Describe the solution to the problem. It is the last step of your article.
Come up with the steps to move the reader from the problem to its solution. These are the intermediate points of your outline. With this your outlining process is complete.
Add supporting data, links, and examples.
Include something from your knowledge or experience.
Now, you can start writing the first draft of your blog post.
Stack and Pack Method
The stack and pack method involves collecting and arranging the topic phrases.
Here is how to use the stack and pack method of outlining:
Use reliable sources to collect the information related to your topic. This is how you keep stacking the information.
Find the major theme points in this collection. These main theme points become the H2 heading of your outline.
Use the leftover information to come up with sub-sub headings. These H3 headings cover the various steps under each H2 heading.
Arrange the points in a logical and meaningful sequence. This will ensure the smooth flow of ideas. Here you pack the points in a way that is useful for the reader.
Compile and include related data, examples and links.
Add some of your own experiences to the mix.
Use this outline structure to create the initial draft of your blog post. This is the best way to create an outline for a beginner.
Read: How To Write Good Blog Post Conclusions?
Use Blog Outline Generator
Blog outline generators use an AI writing tool for creating a blog post outline. Input a few words that describe the article you want to write. The AI writer will create an outline for you.
Here are some of the best outlining tools:
Frase
Frase is a very useful blog outline generator. Input a blog title and brief description of the topic you want to write. Click on the "Generate" button. It will generate headings and a conclusion.
Surferseo
Surferseo offers a tool for creating a post outline. Enter the topic in the search box and click on the "Generate Outline" button.
It will create a list of points. Copy the points you want to include in your outline. You can install the Surferseo browser extension.
Inkforall
Inkforall blog generator creates an outline in seconds. Enter the blog headline and a brief description of your topic and click on the "AI Write". It will generate outlines for you.
Inkforall has a chrome extension. It allows you to create engaging outlines without leaving your browser.
Conclusion
Outlining a blog post is one of the best ways to avoid writers' block. It helps you plan, organize and create an engaging blog post. Prevents forgetting or skipping any information.
It is a great way to organize your thoughts. Save you a lot of time by keeping your writing on track.
There are various methods to create blog post outlines. Some of the methods we discussed are:
Brain dumping Method
SEO Writing Method
Bookends Method
Stack and Pack Method
If you are a beginner, start with one of these methods. Come up with your own blog post outline template. You can mix and match various methods to come up with your own.
How do you come up with outlines for your blog post? Share your ideas in the comments below.