Want to create awesome and error-free content that resonates with your audience. But you don't have time to create content. No worries! We have good news for you. You can create content without paying too much.
AI writing software and content generators use machine learning to create content. AI writers can write error-free sentences that are grammatically correct. They do all this at a fraction of the cost of what you pay to human writers.
In this article, we will review the best AI writing software. We will find out the best AI writers that will make writing and creating content a breeze for you.
Here are the topics that we discuss in this article:
"Content is King" in the present age. If you create engaging and error-free content you can dominate search engines. It will generate a ton of traffic for your blog or website for years to come.
If you want to start a blog check out the guide on how to start a blog.
What is AI Writing Software?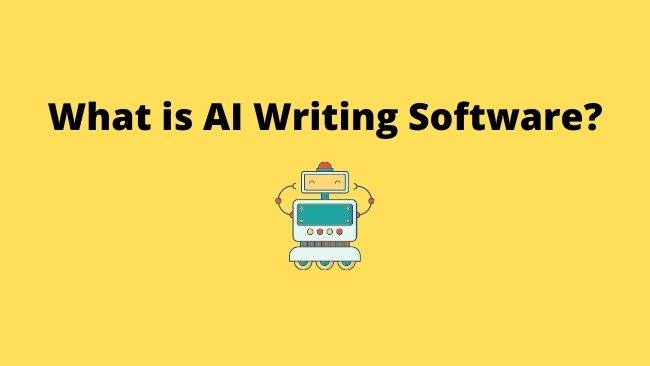 AI writing software uses artificial intelligence to create content. These software programs use machine learning to create natural-sounding sentences. You can use these tools to save yourself hours of work per post!
AI writing software uses machine learning to make the writing process easy. The software uses natural language processing(NLP) to analyse the content. It recommends related content and is helpful in researching the topic. You can get rid of grammatical mistakes and select the right tone.
These tools are great for bloggers and website owners. Especially for those without time or wanting to write their own blog posts, articles, etc. Check out our guide on how to become a successful content writer.
What is the Best AI Writing Software?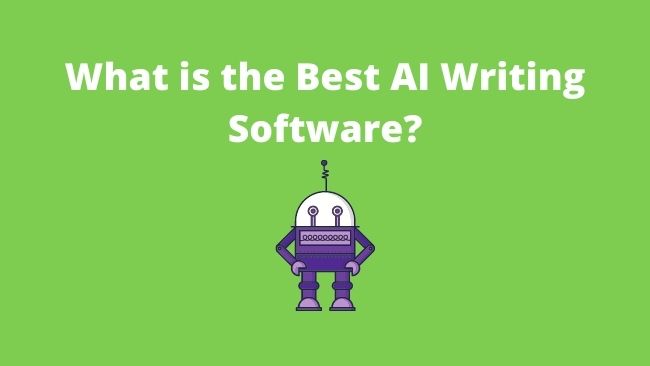 Here are some of the best AI writing software that you should try out.
Jarvis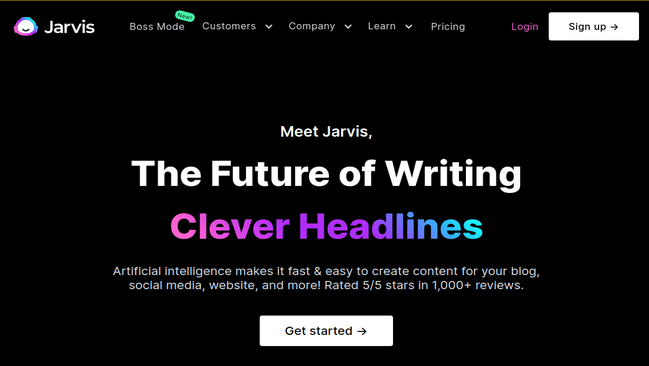 Jarvis is an AI Writing tool that generates engaging and unique content. It can write articles, blog posts and Facebook ads. Jarvis automatically creates content that matches your style of writing.
It writes high-quality content 2 to 5 times faster. Jarvis can understand 25+ languages. You can write in your native language. Jarvis will write and translate it into another language.
Jarvis has read and understood most of the niches online. It generates the content by pulling information from many sources. The content is 100% unique and plagiarism free.
Features
Jarvis is the most feature-rich AI writing tool. Here are the main features:
Easy to use interface – Jarvis has a simple interface. Anyone with basic computing skills can use it.
Wide range of templates – It has a lot of templates based on the type of writing tasks. It makes the writing process simple and straightforward.
Prevents Grammatical Mistakes – Jarvis.ai follows Google's standard for writing. It checks and removes any grammatical errors.
Saves time – Jarvis AI writing assistant creates high-quality and engaging content in the shortest time. This saves you a lot of time.
Matches the tone of your writing – This writing assistant matches the tone of the generated content with the content you have written. You can create content as per the tone of speech. Some of the tones it uses are, casual, funny, excited, professional, sarcastic, witty, bold, feminine, masculine, grumpy, dramatic and many more.
Understands many languages – Jarvis understands 25+ languages. It can generate content in these languages. It can write and then translate from one language to another.
Pricing
Creating content for your blog costs from $20 and upwards for every 1000-2000 words. You can create the same article using Jarvis.ai with their monthly membership. It saves you thousands of dollars in the long run.
Jarvis.ai offers two plans.
Starter: $29 per month for 20,000 words.
Pro: $109 per month for unlimited words.
Boss Mode: $109 per month for unlimited words.
Jarvis offers a free trial for 7 days. If you didn't like it. You will get a complete refund.
Grammarly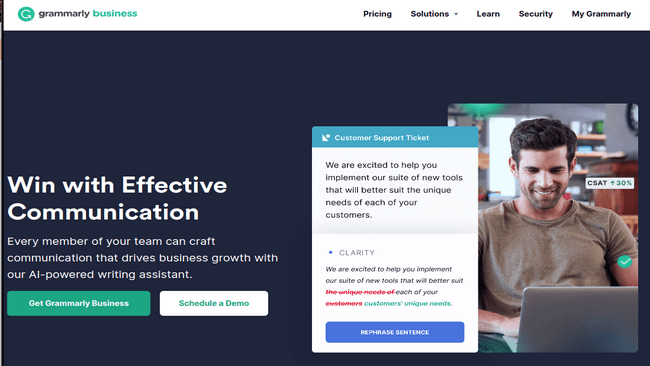 Grammarly is a popular spell-checking and grammar tool. It also helps in removing contextual errors. This tool inspects and corrects as you write. It's like Grammarly is looking over your shoulder while you are writing.
It's a writing assistant that checks your writing for 400+ grammatical errors. This tool can perform checks in many languages like US, UK and Australian English. It gives you suggestions for improving the quality of your content and plagiarism.
You can install the Grammarly browser plugin. The plugin checks the word you type in the browser for grammatical and contextual errors. It's one of the best writing tools that you should have.
Features
Grammarly uses Natural Language Processing(NLP) and advanced Artificial Intelligence(AI) techniques. It uses these techniques to analyse and improve the text. It highlights the words and sentences with structure, style or other grammatical errors.
This writing assistant tool helps you in creating clear, concise and understandable content.
Here are some of the most essential features of this tool.
Checks errors related to spelling, grammar and contextual errors
Checks for Plagiarism.
Helpful and secure browser add-on/plugin.
Easy integration with most of the apps.
Supports Many Languages.
Available for mobile and desktops.
AI and NLP powered.
Pricing
Grammarly offers three plans:
Free – Free plan is for single users only. It offers basic grammar, spelling and punctuation checking.
Premium – The premium plan starts at $11.66 per month. Besides to the basic plan, it offers advanced writing suggestions and plagiarism checking.
Business – The business plan starts at $12.50 per user per month. It is best for teams of three or more members. It includes a dedicated admin panel with centralized billing.
Wordtune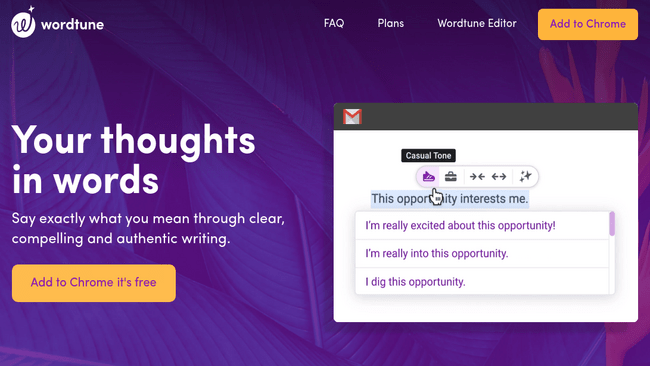 Wordtune uses advanced, neural-net-based NLP technology and advanced AI for content rephrasing. It is not a grammar-checking tool. It's an AI software tool that understands the semantics as well as the context of the content.
It uses context and semantic knowledge to rephrase the content. It improves the readability of the text. This makes your content authentic, engaging and easy to consume. It uses multiple language models for rephrasing your sentences.
Wordtune is a Chrome extension. If you don't have chrome you can use the online Wordtune editor. It works with all the apps that you open in your browser. It doesn't support mobile or tablet.
Features
Wordtune is one of the best rephrasing tools. Here are some of the features:
Rewrites content on the basis of semantic analysis.
Real-time suggestions based on Thesaurus
It's a cloud-based tool.
Includes a smart paste feature.
Supports all the editors and email clients.
Gives you complete control over sentence length as well as style
Supports multiple languages
Easy social media and business tools integration
Pricing
Wordtune has a three-tiered pricing plan. Free plans do not need registration or payment. It's free for everyone. For more advanced features you have to opt for their paid plans
Free plan – Start at $0. This plan comes with some basic features and rewrites. It also includes a Chrome add-on.
Premium Plan – Start at $9.99 per month. It comes with advanced rewrites and suggestion features. It includes a formality and length controller. A word finder is also available with this plan.
AI Writer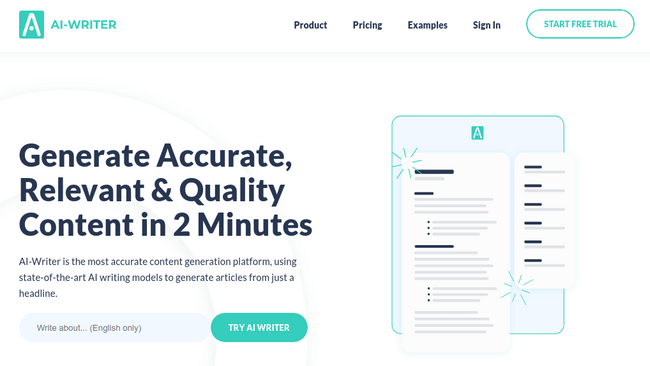 AI Writer is one of the best AI tools for SEO content writers. It's a very helpful tool for busy side hustlers. It will support you if you don't have time to keep up with researching, writing and marketing content.
The AI tool generator generates content depending on the input information you provide. You need to enter a headline or keyword. Based on this information the AI tool pulls up information from various sources.
Always keep in mind that AI writing tools cannot replace a human. They are tools that aid in faster content creation. You should always go through the generated content and check it for correctness.
Features
AI Writer is an automated article-writing software. It also has a text rewriting feature. If you want to rewrite an article. Copy and paste it into the software. It will reword and spin it for you.
Some of the essential features of AI Writer are:
Rewrites/rephrase/reword articles.
Creates content automatically.
Improves the content creation speed.
API for Auto-Blogging
90%+ Copyscape pass rate
Pricing
AI writers have a free trial with limited features. It allows you to generate automated content and articles for seven days. If you feel satisfied with the free plan. You can upgrade to a paid plan.
Here are the AI writers paid plans:
Basic Plan – Starts at $19 per month
Standard Plan – Starts at $49 per month
Custom Plan – Customised plans based on requirements.
Articoolo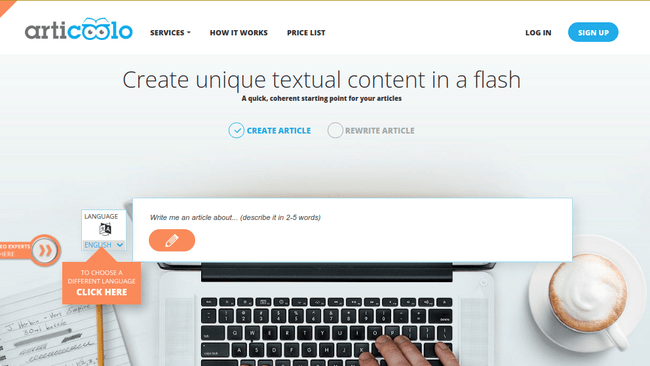 Articoolo is another automated AI text generator. It is useful for bloggers working on a WordPress platform. Articoolo offers a WordPress plugin. This plugin helps in creating content without leaving WordPress.
Articoolo is one of the best article-writing software and AI content generators. It uses an NLP-based contextual algorithm. You have to type in the topic and it will craft a blog article for you.
It saves you countless hours of research and analysis of a topic. It prevents writer's block and helps you develop content quickly. What are you waiting for? Go ahead and start using Articoolo and become a content Ninja.
Features
Articoolo is an article writer, But it's excellent at rewriting existing articles. You can even rewrite the article written by Articoolo itself. It also comes with a WordPress plugin and an API. They help in smooth integration with other apps.
Here is the list of benefits of Articoolo:
Quick article creation and rewriting
Generates blog post titles and topic ideas.
Creates article summary.
Provides a Writers Helper
Has a quote and image search function.
Pricing
Articoolo offers two types of plans – Pay-per-use Plans and Monthly subscriptions. It also has a custom subscription and team plans for a larger business.
Articoolo offers the following pricing plans:
$19 – 10 articles
$75 – 50 articles
$99 – 100 articles
$29 per month – 30 articles
$49 per month – 100 articles
$99 per month – 250 articles
Text Blaze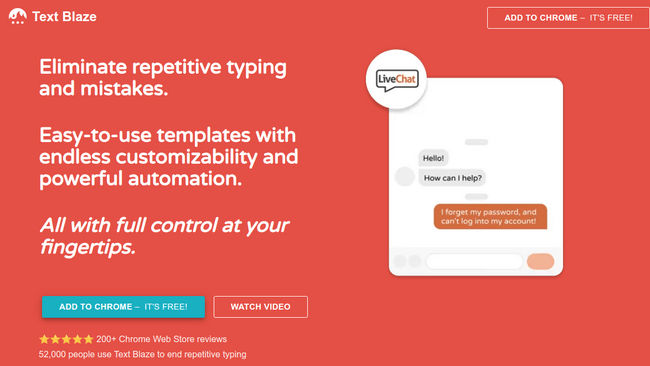 Text Blaze is an AI writing tool that reduces repetitive typing work. It's an app that creates text snippets quickly. You can use these snippets in many places. For e.g, for your social media updates, landing pages or on your blog/website.
The snippets are in plain text. But you can use real-time input, dynamic dates, formulas or integrate with other apps. You can speed up the content generation process using a range of keyboard shortcuts.
The Text Blaze snippets help in faster communication between teams and individuals. It saves a lot of time in creating quality textual content. Thus, it is a very useful tool for sales representatives, operation managers and teachers.
Features
Text Blaze AI writing tool offers a Google Chrome extension. Thus, you can use this tool on all the platforms that can run Google Chrome including ChromeOS. The setup is quick and simple.
Here are some of the features of Text Blaze:
Compatible with most popular apps
A range of Keyboard shortcuts
A lot of built-in customizable templates
Straightforward collaboration and sharing features
Easy and faster business logic implementation
Pricing
Text Blaze offers a lot of options in their pricing plans. It starts with a free plan. You can start with the free plan by installing the Chrome extension. The free plan has limited features. To use advanced features you have to go for a paid plan.
Text Blaze paid plans are:
Pro Plan – $2.99 per month.
Business Plan – $6.99 per month.
Enterprise Plan – Available at custom rates.
Rytr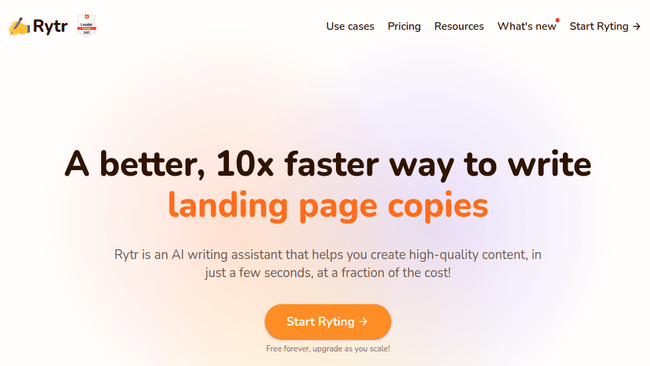 Rytr is an AI writing assistant that automatically generates textual content. You can use it for writing blog articles, emails, social media and even ads. This writing tool helps in creating original and engaging content faster.
It has a Chrome browser extension. Install the app and you can use it across various web apps and editors. You have to provide topics and suggestions. Rytr automatically generates content based on your input topics and suggestions.
It has a lot of inbuilt outlines and layouts. You can choose them to generate the content for you. Rytr has a team management option. You can add your team and simultaneously work with them.
Features
Rytr comes with a lot of features at a decent price. It generates quality and engaging content at a fraction of the cost. Not only does it create content faster, but the content is unique too. The content passes plagiarism checks without any issues.
Here are a few of the most essential features of Rytr:
Simple user interface
Easy to use
Available in multiple languages and tones.
Numerous outputs to choose from.
Team management feature.
Affordable pricing plans
Pricing
Rytr is one of the most affordable AI writing assistants. You can start with the free plan. As with other tools, you have to upgrade to the premium plan for advanced features.
Here are the Rytr pricing plans:
Free Plan – $0 per month (5000 characters per month)
Premium Plan – $29 per month / $290 per year. (Unlimited characters)
Peppertype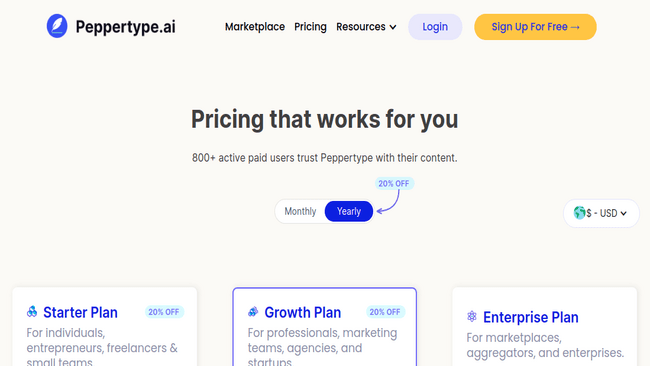 Peppertype.ai is an AI writing assistant that writes content for you. It can generate different types of content. Like blog posts, articles and social media posts. It's available for both desktop and mobile.
It is an AI writing assistant that generates content ideas based on the keywords we provide. It has a lot of features. For e.g, generating content in different languages. Suggesting topics based on the topic type and answering questions about a topic.
Peppertype.ai helps with the research process. It provides information on how specific keywords are being used on various websites. It also suggests keywords relevant to the topic you are researching.
Features
Peppertype is an AI writing tool that's developed to help copywriters. It helps them get their job done quicker and with better quality. It has a lot of features that set it apart from the competition.
Here are some of the best features of Peppertype.ai
Automatic translation of texts into 18 languages
Ability to generate texts and articles on any topic
Smart filters to check for grammar and plagiarism
Generates a wide range of textual content
Unlimited number of articles and blog posts
All texts are unique and 100% plagiarism-free
Automated responses for customer support tickets
Generate personalized recommendations at the scale
Pricing
Peppertype offers three different pricing tiers: free, paid monthly, and paid annually.
The free tier allows users to generate 10000 words worth of content. It gives you all the options offered by the paid plan. If you like their service you can upgrade to their paid plans.
The Peppertype.ai pricing plans are:
Starter Plan – $25 per month / $300 per year
Growth Plan – $165 per month / $1980 per year
Enterprise plan – Custom rates
Writesonic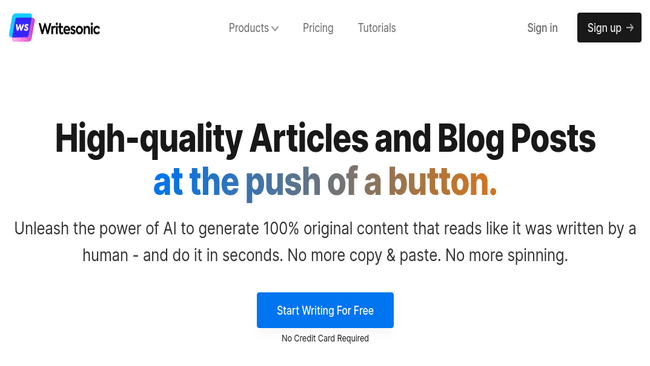 Writesonic offers AI writing tools for creating content. It can generate various types of content like blog posts, product descriptions, landing pages and even ads. The content is engaging, 100% unique and plagiarism.
You have to select a template. For e.g, landing pages or ads etc. Then you need to enter a short description of your topic, product or service. The description can be 1-2 sentences. It will generate a dozen of variants for you to choose from.
It makes your content creation faster. As you have no more time-consuming research. You don't have to worry about the quality of the content. It helps in preventing writer's block.
Features
Writesonic is a content generator for content writers and freelancers. You can use it to create quality and engaging content in seconds. You can use it to automatically generate content for your blog.
Writesonic generates different types of content from blog posts to ads. You can use it to write press releases, personal or company bios and YouTube video copy.
Here are some of the most essential features of Writesonic:
Simple interface that is easy to navigate.
Checks grammar, tone and sentence formatting.
Generates plagiarism-free content.
Accurate, quick and writes in a natural style.
Fast and quality Copywriting.
Recommends ideas based on the written content
More than 40 use cases.
Pricing
Writesonic offers a free trial with 10 credits for $0. After the expiry of free credits, you have to upgrade to the paid plans.
It has many different plans for a wide variety of users. Whether you are an individual, an agency or a startup. Writesonic has a plan depending on your requirements.
Here are the pricing plans for Writesonic.
Free Trial – $0
Basic Plan – $15 per month
Professional Plan – $45 per month
Startup Plan – $95 per month
Agency Plan – $195 per month
ProWritingAid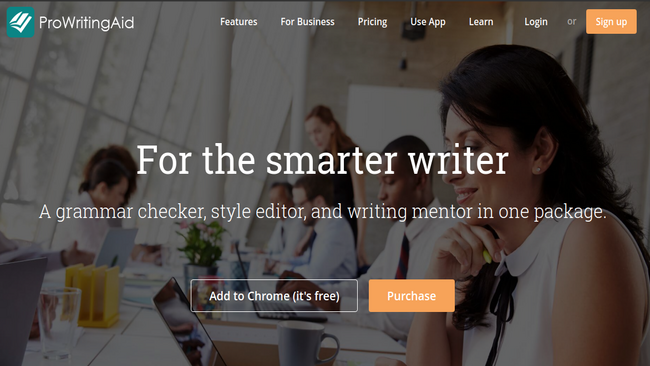 ProWritingAid is the best writing and editing tool for academic content. It is an advanced grammar and spell-checking tool. Provides you with suggestions related to your writing style.
You get detailed reports on your writing style. This helps you improve your content and writing style. It also gives you unique writing suggestions. The other features include suggesting related articles, videos and other related content.
It also helps you in reducing the fluff in your writing. ProWritingAid enables you to remove unwanted, redundant words and sentences. It comes in handy for research projects, professional articles and case studies etc.
Features
ProWritingAid is available for all platforms. It offers an MS office and Chrome Add-on. It works flawlessly with all the popular editors.
The main features of this writing tool are:
Analysis of the tone of the text.
Checks grammar and plagiarism.
Improves and checks style and sentence formatting.
Detailed engagement tracking metrics
Cloud-based tool.
Easy API integration
Integration with all the popular apps.
Detailed writing reports
Pricing
You can download the ProWritingAids Chrome add-on for free and use the tool. But if you need advanced features you have to opt for the paid plans.
Monthly Plan – $20 per month
Yearly Plan – $79 per year
Lifetime Plan – $399 one-time payment.
Individual Business Plan – $6 per month
Team Business Plan – $8 per user per month. It should have a minimum of 2 users.
Enterprise Plan – It's available as per requirement on custom rates.
Sapling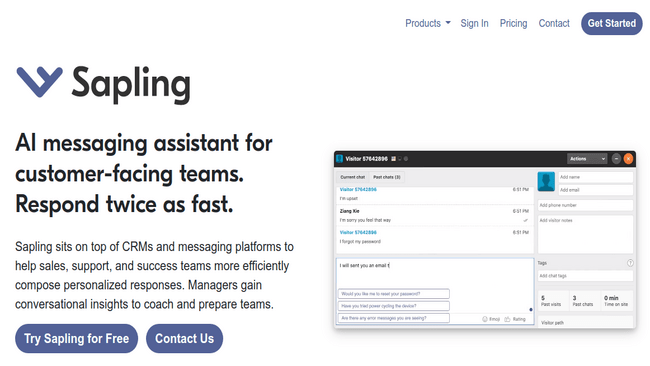 Sapling is an AI writing assistant software for CRMs and messaging platforms. It helps the sales and support teams in sending personalized messages to customers.
It uses a machine-learning algorithm for checking spelling and syntax errors. The autocomplete feature helps support teams in drafting quick replies. It helps them in managing higher inbound volumes of customers.
It suggests edits and provides quality scoring and error reporting. This reporting helps the managers identify training opportunities and improve their qualities. You can share the knowledge in the form of a snippet library. The library is accessible from all your web applications.
Features
Grammar and spell checking
Fluency suggestions
Autocomplete helps compose messages quickly
Respond to chat inquiries with a click
Snippets library accessible from all your web applications
Faster installation
Detailed performance-focused reporting.
Pricing
Sapling has three-tiered pricing plans. The free plan comes with basic features and suggestions. You can use it on free domains. You have to opt for a paid plan to access advanced features and suggestions.
Free Plan – Starts at $0 per month
Pro Plan – Starts at $25 per month
Enterprise Plan – Available at custom rates.
Conclusion
As a creator, you need to create quality and engaging content. If you want to create content at scale you need to automate your content creation. AI writing software helps you in creating content quickly. Freeing up your for other useful activities.
Here are some of the most useful AI writing software we have discussed:
Jarvis
Grammarly
Wordtune
AI writer
Articoolo
Text Blaze
Rytr
Peppertype.ai
Writesonic
ProWritingAid
Sapling
These AI writing tools will help you create content faster. You can mix and match these tools to get the best results.
Which AI writing software you are planning to use? If you are already using an AI writing tool please share your experience.