Are you confused about choosing a WordPress hosting provider? And you are looking for WordPress hosting that fulfils your requirements.
Picking up WordPress hosting is confusing especially for a beginner.
In this article, we will discuss what WordPress hosting is? We will go through different types of hosting. Then, we cover how to choose the best hosting.
What Is WordPress Hosting?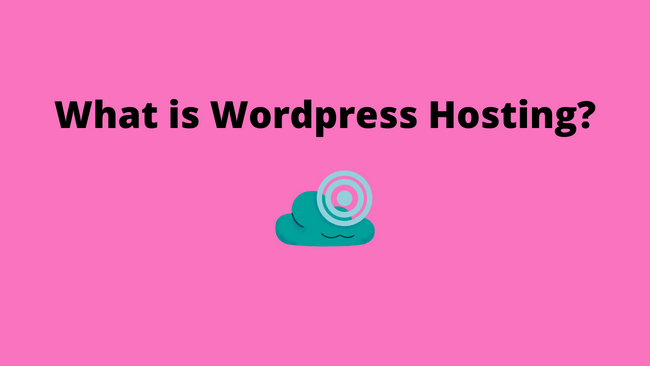 WordPress hosting is a hosting service that supports the installation of WordPress. The web hosting provider has to support specific software and services in order to install WordPress.
Hosting is a rented space for a website on the server of a hosting service provider. The owner of the website pays the service provider monthly or yearly depending on the hosting plan.
WordPress is a content management system (CMS) that powers more than 35% of the total website. It's very easy to create and publish content using a content management system.
What Are WordPress Hosting Requirements?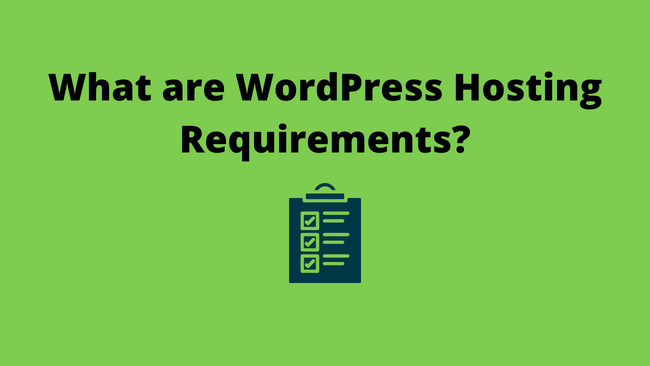 In order to support the installation of WordPress, your hosting provider should meet the following requirements.
PHP 7.4+. Your web host must support PHP 7.4+ preferably PHP 7.4. As compared to previous versions PHP 7.4. supported WordPress websites have faster execution times and low memory usage. Update WordPress theme and plugins as per your PHP version.
MySQL 5.6+ or MariaDB 10.1+. WordPress requires a secure and high-performance relational database management system (RDBMS). Check whether your hosting provider supports MySQL or MariaDB.
HTTPS support (SSL/TLS). HTTPS is a secure version of HTTP. Your hosting service provider must support the installation and configuration of an SSL/TLS certificate. SSL/TLS certificates use the HTTPS protocol to establish a secure connection with your server. It is safe to transmit sensitive information, including personal data, payment, or login information. You must use SSL/TLS if there is a transfer of confidential information like usernames and passwords or payment processing information.
Do You Require WordPress Hosting to Install WordPress?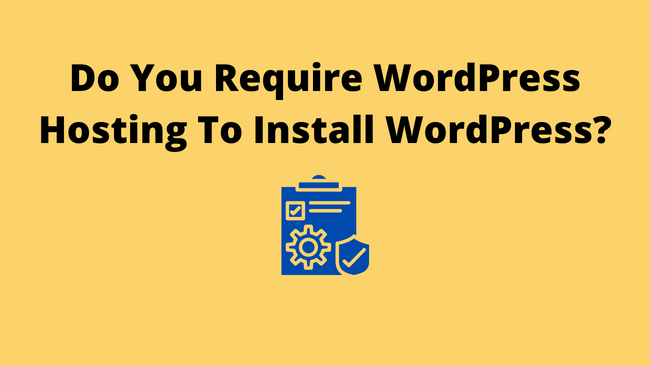 No, you can install WordPress on any Web Host. The prerequisites for installing WordPress are quite insignificant.
All the web hosts have the technical capabilities to install and handle WordPress.
WordPress hosting providers optimise their service for running WordPress. They provide tools and services that support the installation and maintenance of WordPress.
How To Choose the Best WordPress Hosting?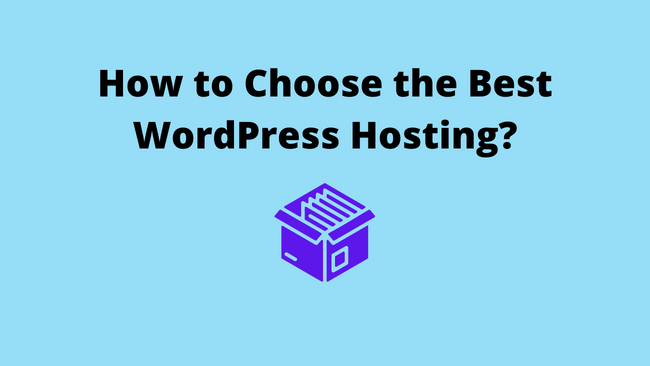 There are many factors that you have to consider while choosing WordPress hosting like speed, scalability, security and reliability. The most important factor that you should consider is your hosting requirements. This single factor will help you save a lot of money and time.
Next, we compare different types of WordPress hosting. So that we can select one that meets our requirements.
5 Different Types Of WordPress Hosting.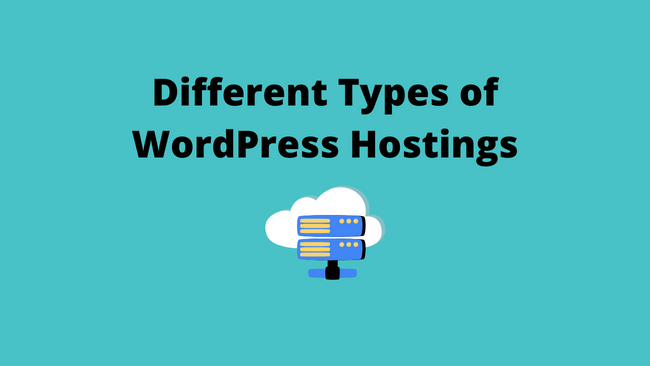 What is shared WordPress Hosting?
In this type of hosting, you share a server and its resources with other websites on the server.
Shared hosting is the most popular and affordable hosting.
The customer is responsible for the upkeep of the website. You are responsible for the backups, updating themes and plugins, caching and the security scans etc.
They provide cheap WordPress hosting plans for the first billing cycle. The renewal prices become normal after the first billing cycle.
Best for beginner bloggers and small businesses. As the size and traffic of such websites are easily handled by shared hosting.
You can easily upgrade as per your business growth.
What is WordPress VPS Hosting?
In VPS hosting your site is hosted on a Virtual Private Server. The server's storage space is converted into multiple virtual servers, as per the customer's need.
You get dedicated server space even though you share the server with other customers. This gives you better control which is as good as a dedicated server.
VPS hosting is stable and secure as compared to shared hosting. It's cheaper than dedicated server hosting.
This type of hosting is best for high-traffic and established blogs/websites. It's complex as compared to shared hosting so it's not ideal for beginners.
What is WordPress Dedicated Server Hosting?
In dedicated server hosting, you rent an entire server for hosting your website.
You have complete control over the server including the operating system, hardware etc.
Dedicated server hosting is the most expensive of all the hosting types. You have to manage all the resources on your own.
This hosting option is not for beginner or newbie bloggers. It's the best hosting option for high-traffic and established websites/blogs.
What is WordPress Managed Hosting?
In Managed hosting, the hosting provider manages the maintenance of your website. For e.g applying software patches/updates, and backups and monitoring your website for security-related issues.
As the web hosting provider manages the website maintenance, therefore it is costly as compared to shared hosting.
What is Cloud Hosting?
In Cloud hosting your site is hosted on multiple servers. If one server fails, another takes over to keep your site up. This type of hosting maximises up-time as the load is balanced between multiple servers.
Cloud hosting is best for high-traffic and mission-critical projects like corporate websites, e-commerce stores and lead-generation web pages.
How To Compare WordPress Hosting Providers?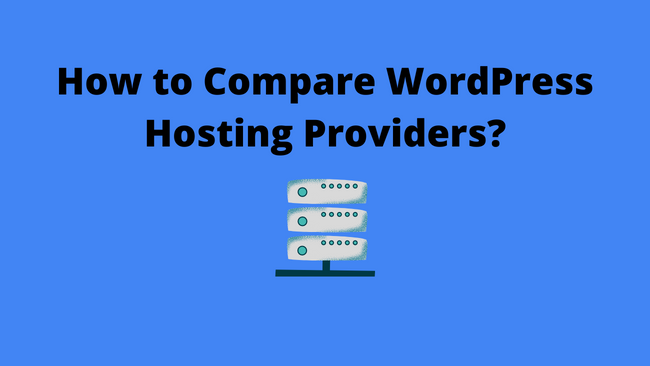 After selecting the type of web hosting as per your requirements, next, you have to choose one among the different providers. Here are a few points that you must consider when choosing the best company.
Price – When it comes to buying hosting always remember that you don't need to choose the most expensive hosting in order to have the best quality. You should pay as per your hosting requirements. Beginner bloggers and small businesses should go for cheap WordPress hosting which is easy to upgrade as per requirement.
Up-time – One of the most important factors to consider when choosing a web host. You should not settle for a host with an up-time of less than 99.9%.
Storage Space – Look for a hosting service that provides enough storage space for your needs.
Technical Support – You will face technical issues related to your hosting and website. Sometimes these issues become complicated and confusing. Hosting providers should have a good customer support system in place. Always look for a company that provides 24/7 live chat support.
Easy WordPress installation – If you are just starting, you may find CMS overwhelming. Look for a service provider that offers WordPress auto-installation. You have to fill in the required fields and click on the install button.
Documentation – It's not a mandatory requirement, but tutorials and articles are good to have for quick reference.
Additional Tools and Offers – A few hosting companies provide additional tools and offers. For e.g discounted or free SEO tools, free Google ads or Facebook ads credit vouchers etc.
Best WordPress Hosting Providers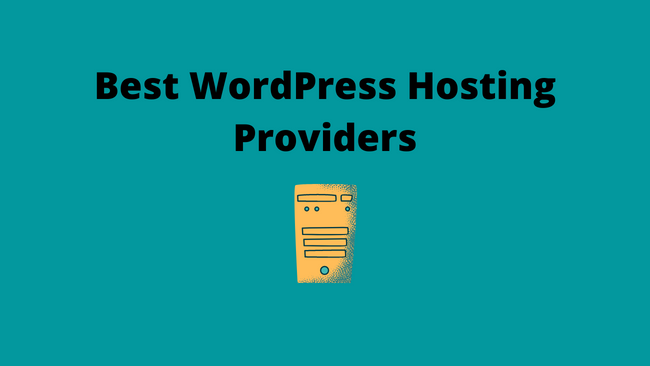 We don't want to confuse you with a long list of hosting service providers. Rather we narrow it down to the 9 best companies.
These hosting companies are the best in the business for all types of blogs and businesses Without any further delay let's start with the first provider on the recommended list.
SiteGround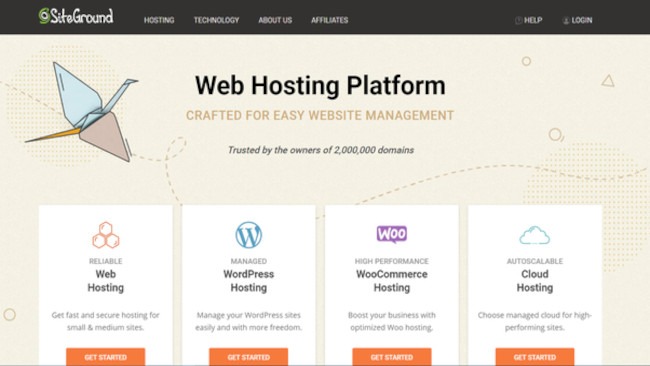 SiteGround Features
Free SSL Certificate
Free Caching
A free CDN
Free Email
SG Optimizer Plugin for enhancing website speed.
Free Backup and restore.
Free Migration from other hosts.
Automatic Updates.
Staging Site
Enhanced website security and protection.
30-day Money-back Guarantee.
Load time: 629ms
Uptime: 99.98%
Cost: $3.95/month
Support: 24/7 Live chat support
Locations of SiteGround Servers:
Bluehost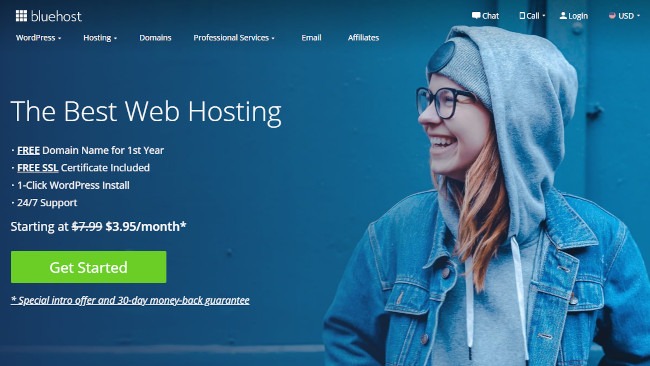 The official WordPress recommended company. Bluehost is one of the leading hosting companies in the world.
Free Domain for 1 year.
Free SSL certificate
Unlimited Storage
Unlimited Bandwidth
24×7 customer support.
Starts from $2.95/month.
30-day money-back guarantee.
Load time: 390ms
Uptime: 99.99%
Cost: $2.75/month
Support: 24/7 Live chat support
Locations of Bluehost Servers:
A2Hosting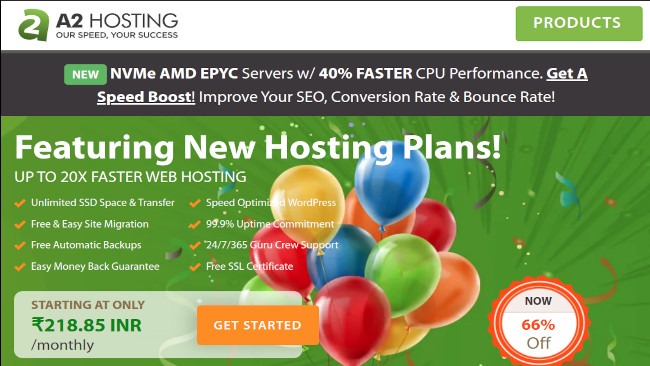 Free SSL
A free CDN
Free migration from other hosting providers
Unlimited SSD Storage
Free and Automatic Backups
Free website builder
Support WP CLI
Data Centers around the World
Quick Support
Starts from $ 3.92/month
Anytime Money Back Guarantee
Load time: 295 ms
Up-time: 99.94%
Cost: $3.92/month
Support: 24/7 Live chat support
Locations of A2Hosting Servers:
DreamHost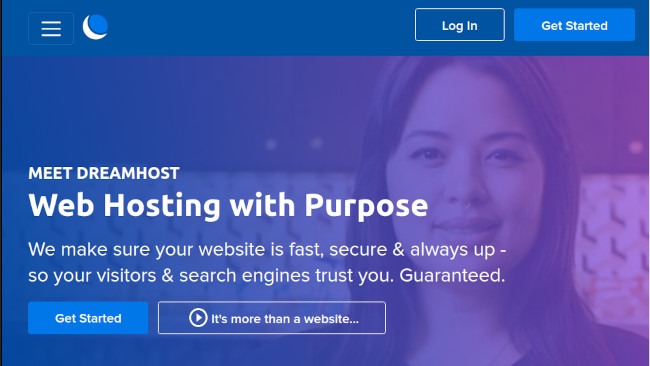 Free Domain
Fast SSD storage
Unlimited Bandwidth
Unlimited Storage
Free automated WordPress migrations
Automated Backups
Free Email addresses
Free privacy protection
24×7 Support
97-Day Money-Back Guarantee
Load time: 569 ms
Up-time: 99.92%
Cost: $2.59/month
Support: 24/7 Live chat support
Locations of DreamHost Servers:
InMotion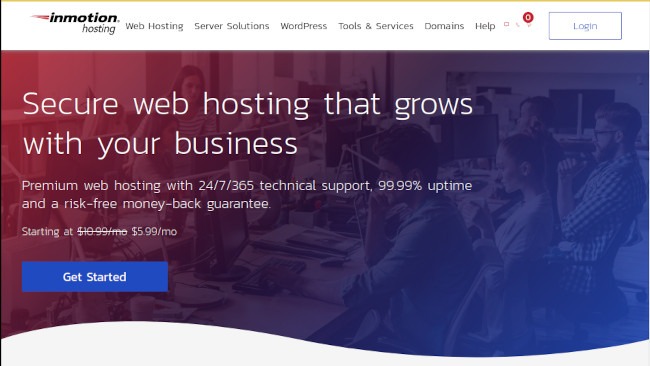 Free Domain
Free SSL
A free CDN
2 websites
Unlimited Email
Free Site Transfer
Unlimited Bandwidth
Unlimited Disk Space
More than 200 free WordPress themes
Load time: 767 ms
Up-time: 99.95%
Cost: $4.99/month
Support: 24/7 Live chat support
Location of InMotion Servers: US
GreenGeeks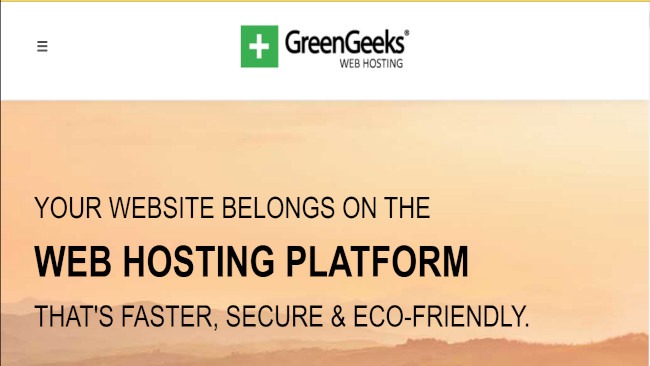 Free Domain
Free SSL
A free CDN
1 Website hosting
Unlimited SSD Storage
Unlimited Bandwidth
Automatic Updates
WordPress Guides and Tutorials
30-day Money Back Guarantee
Load time: 375 ms
Up-time: 99.99%
Cost: $2.95/month
Support: 24/7 Live chat support
Location of GreenGeeks Servers:
Kinsta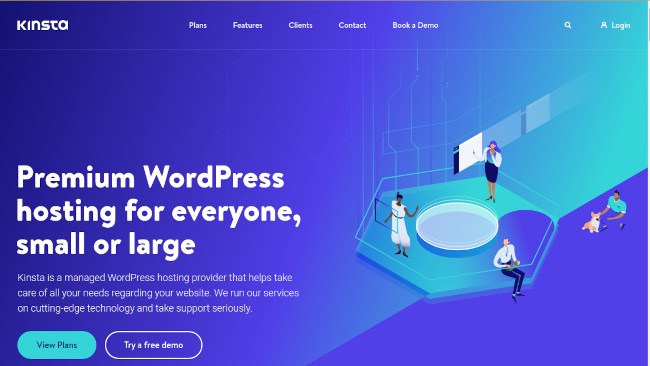 Free CDN
Multiple server locations
Free Staging Site
Daily or On-demand backups
Free Site migration from other hosts
Google Cloud Platform
Best customer support
Load time: 643 ms
Up-time: 99.99%
Cost: $2.95/month
Support: 24/7 Live chat support
Location of Kinsta Servers:
USA
Belgium
Taiwan
Australia
UK
Germany
Singapore
Japan
Blog Posts related to WordPress Hostings:
Conclusion
I hope you have understood what WordPress hosting is. You have also understood about 5 different types of hosting.
As you may have understood by now. There are hundreds of web hosting service providers. If you are still confused, you can go for anyone among the following.
Bluehost
SiteGround
DreamHost
I hope you enjoyed reading this article. You must have understood how to choose the best WordPress hosting.
I would love to hear your ideas. Please let me know what do you think?