Have you installed WordPress for your site! Now you want to install the required WordPress plugins. You are confused and don't know which are the best WordPress plugins for bloggers.
In this article, I will help you figure out must-have WordPress plugins for beginners. Here are the topics we cover:
If you want to go for your own research in selecting the WordPress plugins. Here is a broad list of different types of WordPress plugins that you must have on a new WordPress site.
SEO Plugin
Anti-spam Plugin
Analytics Plugin
Mail List Plugin
A Form Builder Plugin
A Security Plugin
A Backup Plugin
A Caching Plugin
An Image Optimizer
Social Share Plugin
Next, I have compiled a list of WordPress plugins. The list includes plugins I use on my own blog. Most of the WordPress blog plugins are free.
Yoast SEO – Best SEO WordPress Plugin

Yoast SEO is one of the best SEO plugins. It has more than 5+ million active installations. Therefore it's one of the most popular WordPress plugins for bloggers. It not only optimises your site for search engines but also helps you to improve the readability of your content. A headline analyzer helps you optimise your headlines and a host of other features.
You can easily create and manage the XML sitemaps, without you requiring any technical knowledge.
The XML sitemaps facilitate the search engines to crawl and index your site efficiently. It will guide you in optimising the Title and the meta-description.
The Yoast SEO plugin also helps you check duplicate content. In this way, it helps you avoid being penalised by search engines like Google. A few of the most important features are covered below.
Features
Allows you to add up to 5 keywords. It will also optimise your post or page for these keywords.
The snippet preview allows you to edit the meta descriptions. The meta description is the text that appears under the post headline in the search engines.
Optimises the images by adding the ALT tags.
Gives suggestions to improve the readability of the content.
Price
You can install the Yoast SEO for free. But to access the full features you can upgrade to the premium version. Yoast SEO premium costs $89 annually.
Akismet Anti-Spam – Best Anti-spam Plugin

Akismet is the defacto anti-spam WordPress plugin for bloggers. It comes pre-install with all the default installations of WordPress. Akismet is the most popular anti-spam spam plugin with 20+ million downloads. You require an API key to activate the plugin on your site. The API key is completely free and is very easy to set up.
Once a new comment or contact form is submitted. It's scanned by Akismet's cloud-based anti-spam algorithm. Thereafter it automatically checks and separates the comments that look suspicious.
Akismet has very limited settings. Secondly, if your server fails to connect with the Akismet server, It will defeat the very purpose of this plugin. Your site will be exposed to spam comments and form submissions.
Features
Checks the comments and contact form submissions and automatically filters out the spam.
A Discard feature to block the worst spam.
You can check the status history of each comment. It helps the moderator to check the comments filtered by Akismet along with any action you have taken on this comment.
Check easily the number of approved comments per user.
Links are revealed in the comment body so that you can check the malicious links.
Price
Akismet is free for a personal site or a blog. You can upgrade to a paid plan. It has three paid plans
Plus – $8.33
Enterprise – $41.67
Enterprise Plus – Contact support.
Google Analytics For WordPress By Monsterinsights – Best Analytics Plugin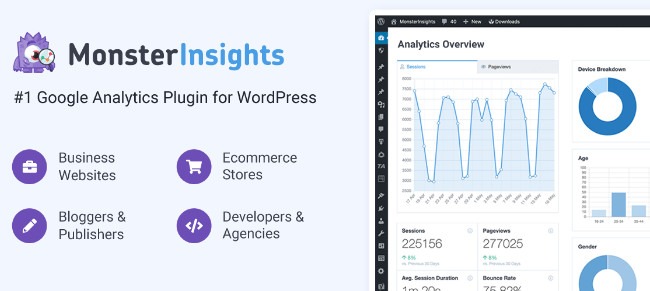 Google Analytics for WordPress has over 2 million active installs. It helps you connect your WordPress site with Google Analytics. You can access all the website data and reports from within your WordPress admin area. It also makes it super easy to generate customised reports for your site.
Monsterinsights Google Analytics plugin is very easy to set up. You don't require any coding skills but points and clicks to install and configure the plugin. Finally, you have to give Monsterinsights, access to your Google Analytics data.
You can use a range of addons with Monsterinsights, Google Adsense Ads addon helps you track the performance of the Google Ads. Similarly, affiliate tracking add-ons help you track your affiliate links.
Features
It gives your real-time stats, and you can find out the action on your site in real time.
Monsterinsights tracks the most popular posts, pages and sections of your site.
You can track your file downloads giving you the popularity of your files.
This plugin also helps you to identify the most popular authors on your site.
It automatically helps you make Google Analytics compliant with regulations like GDPR (EU)
Price
You get all the basic functionalities with the free version of the Monsterinsights plugin. You can upgrade to any of the paid plans for added functionalities.
Plus – $99.50
Pro – $199.50
Agency – $399.50
MailChimp For WordPress – Best Mail List Plugin

MC4WP or Mailchimp for WordPress helps in integrating your WordPress site with your Mailchimp account. Mailchimp is an email service provider that allows you to create email campaigns for your email subscribers. It's free to use for up to 2000 subscribers.
MC4WP plugin helps you grow your Mailchimp lists and write a better newsletter. You can integrate the plugins with various types of forms. For e.g contact forms, checkout forms or even comments.
A lot of add-on plugins and integrations are there to enhance the functionality of the MC4WP plugin. The forms created using the Mailchimp plugin are mobile-friendly and customizable.
Features
Helps you create user-friendly and mobile-friendly sign-up forms quickly.
The sign-up forms can subscribe to one or multiple Mailchimp lists.
You can add forms to posts, pages or even a particular section of a website.
Built-in integration with various plugins like Contact Form 7, WooCommerce and Gravity Forms.
Stats to help you find out the best-performing pages or sign-up forms.
Price
MC4WP is a free plugin but you can upgrade to a paid plan for additional benefits. The additional benefits include the ability to create more forms, better styling options etc.
The paid plans of the plugin are
Hobbyist – $59
Professional – $99
Agency – $149
WPForms – Best Form Builder Plugin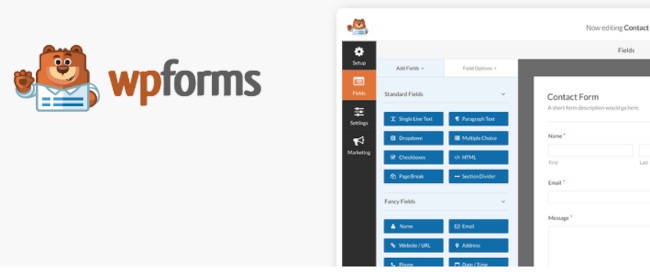 WPForms is used by more than 3,000,000 sites. It's one of the best form builder plugins. You can create a wide range of forms using WPForms. For e.g, contact forms, payment forms, email subscription forms or any type of form to use online. The drag-and-drop interface makes it very easy to create beautiful forms in seconds.
Forms created by the WPForms plugin are user and mobile- friendly. The forms are optimised for speed and search engines as well. In fact, it is one of the fastest form builder plugins.
WPForms makes it easy to integrate the forms with your email marketing service. You can use add-ons to create a survey and polls. Integrations are possible with many other services like AWeber Forms, PayPal Payments Forms
Features
A large number of pre-built form templates.
Instant Form notification helps you to respond quickly to inquiries.
Helps you create signature forms and add the signature field to your forms.
Spam protection using smart CAPTCHA and Honeypot method
Ability to collect files and media by enabling the forms with file uploads
Price
WPForms Lite is the free version of the plugin. You can upgrade to WPForms which is the premium version. It comes with a range of upgrade options like
Basic – $39.50
Plus – $99.50
Pro – $199.50
Elite – $299.50
Sucuri Security – Best Security Plugin

Sucuri Security WordPress Plugins is a powerful tool. It protects your site from hacking and malware attacks. It safeguards the site by creating multiple layers of defence. Sucuri security is one of the best and most trusted WordPress plugins for bloggers. The service provided by the plugin is mostly free barring a few like SSL support and a website firewall.
It not only guards your site against attacks but also helps to improve your site's speed and performance. They have a comprehensive guide to help you through the steps that you should take if your site is hacked.
They maintain a blog where they regularly post security tips and tricks. Sucuri also has a huge knowledge base on their official site. You can find a lot of tutorials and guides that will help you keep your site free from attacks.
Features
Sucuri monitors all the website security-related functions even failed login attempts etc.
Hardens the vulnerable areas to prevent attack from possible attacks.
Customized email alerts regarding suspicious activity on your site.
Sucuri security scanning engine constantly checks the spread of malware, website errors, blacklisted status and even out-of-date software.
It offers remedial measures if your site comes under attack and is compromised.
Price
The Sucuri Security plugin is a free WordPress plugin for users. But you can upgrade to a premium plan of your choice.
Basic – $199.99/year
Professional – $299.99/year
Business – $499.99
UpdraftPlus – Best Backup Plugin

UpdraftPlus plugins is a backup and restoration solution for your WordPress site. It's one of the best backup plugins. You can easily restore your WordPress site from the backup. It allows you to store your backups to many different storage sites like Google Drive and Dropbox etc.
The best thing about this plugin is the scheduled backups. You can configure the software to take backups at predetermined times and frequencies. It is also possible to back up the files, database or both.
If you don't want to schedule backups. You can take the backups manually using the plugin interface. It's even possible to take incremental backups of your site. Thus, it is the most comprehensive backup WordPress plugins for bloggers.
Features
It syncs your website data to the backup files continuously. So keep the backup copy up to date.
Backs up and restores the complete website,
It is very fast and utilizes very few server resources.
Supports backing up to multiple storage sites.
Helpful in creating duplicates and migration of the sites.
Price
UpdraftPlus has a basic version of the plugin which is free. You can upgrade to UpdraftPremium as per these plans
Personal – $70
Business – $95
Agency – $145
Enterprise – $195
Gold – $399
W3 Total Cache – Best Caching Plugin

W3 Total Cache boasts of over 1+ million active installs. It is one of the most popular caching WordPress plugins for bloggers. It is very easy to set up and enhances your site speed. This plugin is compatible with all types of hosting. For e.g shared hosting, VPS hosting or dedicated hosting. It also leverages the use of the content delivery network (CDN) to speed up the site.
As the speed of the website is optimised the loading time is decreased. This results in a good user experience and improves the SEO of the site. Website loading speed is one of the ranking factors, so it means better ranking and more visitors.
W3 Total Cache also supports mobile and small screens. It caches the website content on desktops as well as mobiles. Caching is the process of storing site data on a client's devices for faster access.
Features
Improves the search engine rankings, especially the sites that are responsive and use SSL.
It saves up to 80% of your site bandwidth by minifying and HTTP compression. This reduces the size of HTML, CSS and JavaScript files on your site.
When fully configured results in 10x overall website improvement.
Improves the performance of your web server. Helps sustain higher traffic periods.
The optimized progressive render ensures pages start to render quickly.
Price
W3 Total Cache plugin is a free plugin. But you can upgrade anytime for $8.25/month for advanced functionalities.
Optimole – Best Image Optimizer

Optimole is a complete image optimization solution. It has a wide range of automated and enhanced features. This plugin doesn't load your web server as it is a cloud-based service.
It is one of the best image optimization WordPress plugins for bloggers.
Features
All the images are served through a fast image CDN.
It utilizes lazy loading to optimise your page load speed.
Helps in picking the right image size based on visitors' viewport or browser.
Downgrades the image quality if the visitor is on a low-speed internet connection.
It optimizes all your images automatically.
Price
The free version of Optimole is good enough for your website. It enables you to process up to 1GB of images per month. The premium plans start at $22.52/month.
Sassy Social Share – Best Social Share Plugin

Sassy Social Share plugins make it easy for your website visitors to share your content on social media sites like Facebook, Twitter, LinkedIn and over 100 similar sites. You can create social sharing buttons in the post content, and sticky floating buttons too.
This plugin has three different icon styles: rounded, square and rectangle. There are a lot of settings and options to customise the look of the social media buttons. It's one of the simplest WordPress plugins for bloggers. This plugin has awesome vector icons
It also has a feature to show share counts. You can show the number of times content is shared on one particular social media site. The social media icons are mobile-friendly, they adjust themselves as per the screen size.
Features
No need to create an account to use this plugin.
A lot of ways to customise social media icons.
Very less loading time, which means faster site loading.
It uses Scalable Vector Graphics (SVG), therefore faster loading time and better display on High-PPI displays like Retina screens.
The plugin is very simple therefore easy to configure. Screenshots are provided to help you configure the plugin.
Price
The basic version of sassy social share is free. You can upgrade to the premium version to get more out of the plugin. The plans are:
Pro – $11.99.
Premium – $29.99.
Conclusion
With a huge number of plugins, it becomes quite confusing for a beginner blogger to select the best WordPress plugins.
In this article, we have already covered
The different types of plugins that are required for a blog.
List of the WordPress Plugins that I use on my blogs.
Feature and price of the plugins.
I hope you enjoyed reading the list of my must-have WordPress plugins for bloggers. I would love to hear your views.
What are your favourite plugins or which plugins do you use for your blogs?