Are you planning to start a career in Digital Marketing? But don't know where to start? Are you reading blogs, ebooks and watching YouTube videos? But rather than gaining anything you are feeling overwhelmed and lost. 
Stay with me to the end of the post. I will be giving a step-by-step method for learning digital marketing 
Digital Marketing is a fascinating and excellent career choice. It's one of the few career opportunities that you can start in your spare time. You can learn and begin to earn from the comfort of your home.
On acquiring the necessary skills you can work as a freelancer, start your own business or apply for a job. 
In this post, we will discuss how to learn digital marketing step by step.
Here are the topics that we cover:
Let's get started:
What is Digital Marketing?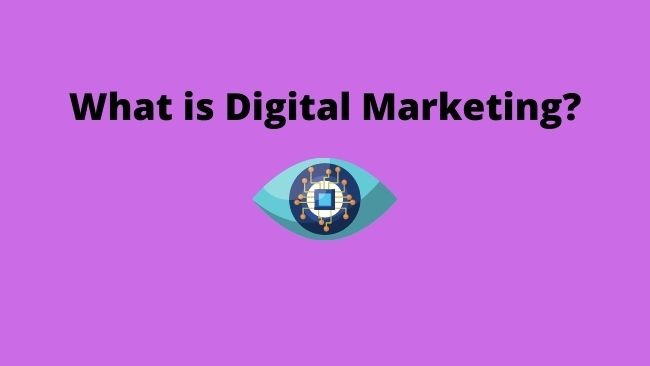 Digital marketing is also known as online marketing. It is the process of selling and promoting products and services online. It involves the use of different online marketing channels. The channels are search engines, social media and PPC advertising etc.
It differs from traditional marketing in the use of Digital Media. Digital media includes computers, tablets, phones and other related electronic devices. It uses various formats for conveying promotional messages to audiences. For e.g, Display ads, videos and social media updates
Digital marketing has a broad geographic reach. It involves reaching and attracting them using various digital methods. A few of these digital methods are
Email marketing
Content marketing
Search engine optimization (SEO)
Social media etc.
What are the Different Types of Digital Marketing?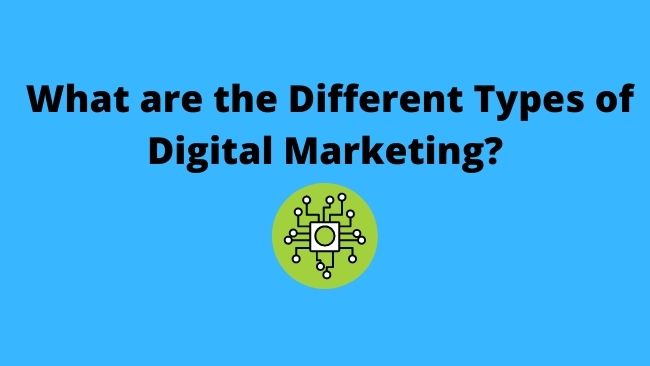 The various types of digital marketing that you need to master are:
Search Engine Marketing – SEM covers search engine optimization and paid search advertising
Content Marketing – It covers how to use and write content for digital marketing campaigns
Email Marketing – Email marketing covers selling and promoting your products and services using email.
Social Media Marketing – SMM involves marketing using social media platforms like Facebook, Instagram, Twitter and other social media networks.
Blogging – Blogging is a form of content marketing.
PPC Marketing – Paid advertising for reaching out to more customers
Inbound Marketing – Creating useful and engaging content to attract customers.
Affiliate Marketing – Affiliate marketing involves selling and promoting other people's products on a commission basis.
What are the Different Ways to Learn Digital Marketing?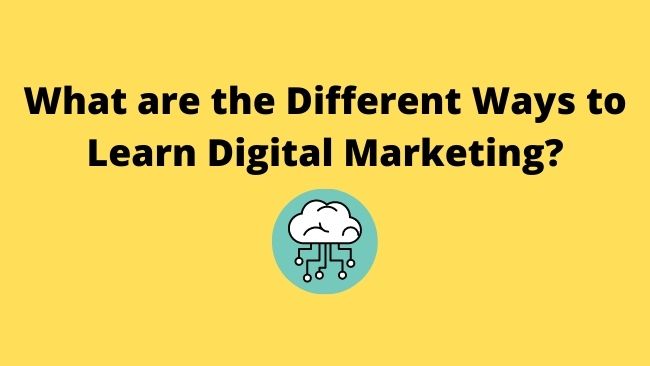 There are many different ways to learn digital marketing. A few are free methods like reading blogs and following YouTube videos. You can also opt for paid courses where you have an instructor guiding you.
I have put down a list of ways to learn online marketing. It includes free or paid methods.
Let's start with the free methods to learn digital marketing.
Free Methods to Learn Digital Marketing
There is no shortage of free methods to learn digital marketing. But beware ! Don't get into the endless loop of consuming content and not taking any action. You need to practice digital marketing skills.
You should start by following only 1-2 YouTube channels or blogs. Read or watch the video two to three times a week. Learn everything that is available on the channel. Try to put in place the techniques before moving on to another source.
Google Digital Unlocked – A free platform by Google to learn about digital marketing and SEO
YouTube – Search for Digital Marketing training videos.
Digital Marketing Podcasts – Install apps like Spotify and Podbean
Udemy, Skillshare – Enrol in Free Certification courses.
Digital Marketing Forums – Some are paid forums and some are free. Join these forums and enter into the discussion. You can post your questions and doubts, share your thoughts and knowledge with others. Some forums have deals, discounts and other exciting offers.
Following Digital marketing influencers – The digital marketing influencers post useful information and digital marketing news. You can follow them on Facebook, Instagram, Twitter
Join Facebook Groups – Bloggers and digital marketers share posts, videos, audios and other content formats. These posts contain valuable information.
Paid Methods to Learn Digital Marketing
There are various paid methods to learn digital marketing. A word of caution: Do not jump from one course to another. Pick up one, learn everything and try to put it in place on your own blog.
Thereafter get a job for real-world experience. Here are some of the paid methods to learn online marketing.
Enrol in MBA in digital marketing
LinkedIn learning portal available to premium members
Paid course on Udemy, Skillshare etc.
Digital Marketing Internship – Various digital marketing companies and agencies offer internship opportunities. You can search for the digital marketing internship on the following platforms:
If you are not able to make up your mind. Here is a step by step method to learn digital marketing at home.
The Best Way to Learn Digital Marketing?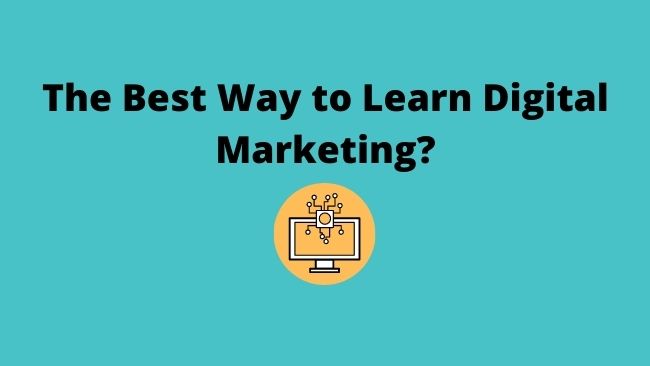 The best way to learn digital marketing is by following a proven blueprint. If you are still clueless about how do I start with digital marketing?. Do not worry, here is the best way to learn digital marketing step by step.
Step 1: Learn the Basics of Digital Marketing.
Digital marketing is a very broad discipline. Get a good understanding of what digital marketing is? and then the different types of digital marketing.
There are various digital marketing channels. Learn the basics of all these disciplines. The idea here is to get an overview and basic understanding of all the related disciplines.
Now, most people get stuck here. They get into the vicious cycle of reading blogs/books and watching videos. Don't get me wrong, these are vital parts of learning. But digital marketing is a practical discipline. It's for this reason I recommend starting a blog.  You should create a blog to implement the techniques you learn. 
Step 2: Start a Blog
Once you have mastered the basics. Set up your own blog. You can set up a blog by following my guide on how to start a blog. Whatever you learn, try implementing it on your blog. This will give hands-on training and cement your skills. Your blog will be your learning lab.
If you don't have any specific blog niche. You can write about what you have learnt in digital marketing. 
Step 3: Specialize In One Channel.
Pick up one of the digital marketing channels and deep dive. The idea here is to become a T-shaped digital marketer. You can pick up anything you like. But I recommend starting with SEO.
SEO will give you a good understanding of how search engines work. You will also learn about creating websites that are loved by search engines and users.
After you master SEO you can move on to the other fields. Mastering more channels will make you a V-shaped digital marketer
Step 4: Learn Paid Advertising
Search engine optimization will help you in driving traffic to your site. Paid advertising helps you drive a ton of on-demand web traffic. It's beneficial in scaling your blog/website revenues.
You can start with Facebook ads. It's easy to start with and cost-effective too. Google Ads should be the next on your list.
Next, learn, create and put in place simple sales funnels. This exercise will help you get to the core of the internet marketing engine.
Step 5: Master Analytics
After learning traffic generation and conversion techniques. You should learn to measure the campaign performance. You should learn to measure the key performance indicators (KPIs). 
You should start learning Google Analytics. It will give you a good understanding of your website traffic behaviour. 
Remember Those who make a 7-figure income online make data-driven decisions.
Read: 9 Best Google Analytics Plugins for WordPress
Step 6: Get real-world experience
After finishing the first 5 steps. You will get a good grounding in digital marketing. Now, you have to gain real-world experience.
You can get real-world experience by taking up a digital marketing job. If you have a full-time job you can work as a part-time freelancer. This will force you to apply the tools and techniques that you learnt in real-world situations.
You will gain some valuable skills. For e,g. communication and negotiation skills, handling objections, reporting and handling the budgets etc. If you do not want to go for a full-time job. You can register and apply for freelancing projects on freelancing websites like:
Finally, you can join an internship. You will work as a digital marketing assistant in a digital marketing agency. This will give you good exposure to the working of a digital marketing agency. It will help you learn the practices and procedures in a professional way.
This will help you in starting your career as a freelance marketer. Here you work as a digital marketing expert. You can also start your own digital marketing company
Step 7: Keep Up with the Latest in the Digital Marketing Industry.
Digital Marketing is a very dynamic and fast-changing industry. Search engines and social media platforms keep updating their search algorithm.
Thus, you need to keep up with the latest in the industry. You have to commit yourself to lifelong learning. Here is a list of websites that cover digital marketing news:
Conclusion
The digital marketing profession is a great career choice. You can work worldwide and of course, it offers a good salary too. Start learning online marketing with goals in mind. Build the required skills to meet your goals.
Do not try to be a jack of all trades. Get a working knowledge of the various channels but specialize in one. Start your own blog and put in place whatever you learn.
You can start by learning search engine optimization (SEO). Then move on to the paid traffic generation methods like Google and Facebook Ads. Master analytics, as it is a vital component in your journey to learn digital marketing.
After getting all the basics under your belt go for certifications. On completion of certifications. Take up a job in a digital marketing agency or work as a digital marketing freelancer. This will help you in gaining real-world experience. 
Are you ready to learn digital marketing? Let me know your views in the comments below