Are you blogging for months and still getting very low blog traffic. You are unable to drive traffic to your blog in spite of creating useful and engaging blog content.
Although the first step in generating blog traffic is to create amazing content, the next step is to find a method to connect your audience to this content. We have already covered the topic of how to start blog writing. 
What is Blog Traffic?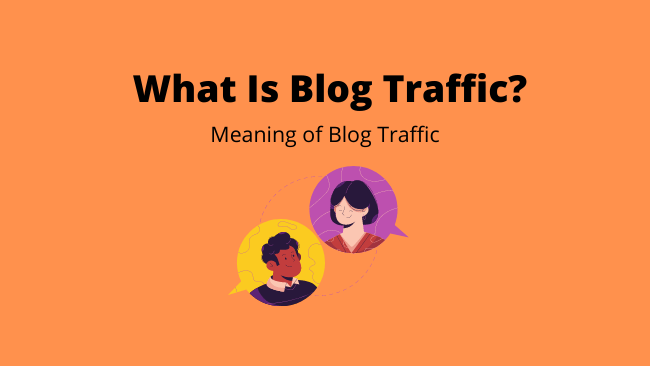 Blog traffic refers to visitors that visit a blog. The visitors are normally the target audience of the blog.
Visitors arrive at your blog through different sources. They may have a query or looking for information. If provide the right solution, they will like your content and become your fans. 
In this way, you build rapport with your audience. This trust helps build a relationship with your audience. Once they trust you they will most likely buy from you.
How Many Blog Posts Does It Take To Grow Blog Traffic?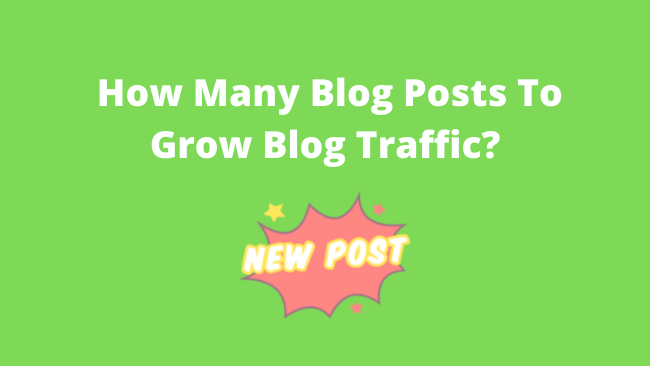 The number of blog posts is directly proportional to blog traffic. With more blog posts you drive more traffic to the blog.
Initially, a new blog does not generate any traffic. As shown in the graph below, it takes 24-51 posts before you see traffic growth on your blog. Therefore, your first priority should be to create useful content.
A large number of posts help Google index and understand your site content. So that Google can present the content to the target audience. An increase in blog traffic helps in the generation of more leads. 
You see a 77% jump in lead generation with a higher number of blog posts.
What Are Different Types Of Blog Traffic?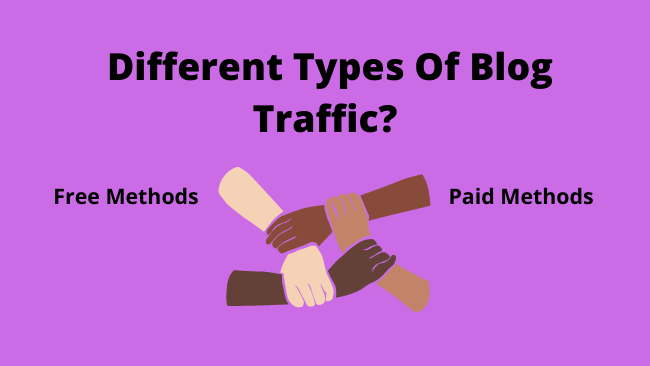 Visitors reach your blog in many different ways. Primarily, we have two types of blog traffic sources.
These two types of blog traffic sources are:
Organic Traffic – Organic traffic refers to the visitors landing on your blog site via organic search results. It's free traffic referred to by search engines like Google or Bing. This type of traffic takes time to build up.
Paid Traffic – Paid traffic refers to the visitors landing on your blog site via paid promotion or advertising. As the name indicates you have to pay for the traffic. It is a quick method of driving traffic to your blog.
Driving Blog Traffic Using Free Methods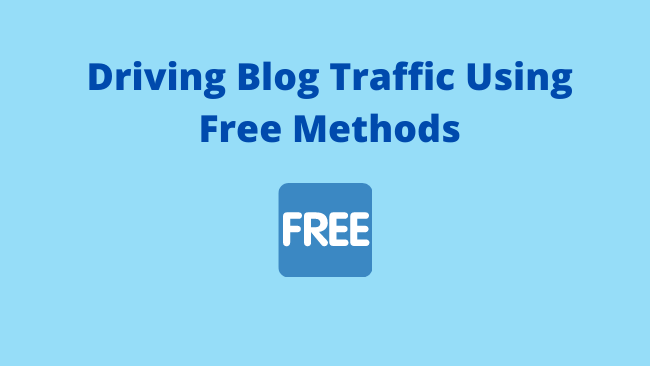 Organic traffic
As per Growth Badger, organic traffic from Google is the #1 traffic source for high-income bloggers. Driving traffic through this method takes a lot of time, But considering the long-term benefits, it's worth the effort.
Organic traffic can be further divided into four different types:
Search Traffic – Search Traffic refers to the traffic that reaches your blog via search engines. For e.g, Google or Bing etc. As per Google, 49% of users use Google to find or discover a new item or product. 
Referral traffic – Referral traffic is the traffic that reaches your blog by clicking on the links on other blogs or websites. The traffic is referred by the other blog sites to our blog or site.
Direct traffic – Direct traffic is generated when a visitor types the blog address in the browser to reach your blog. The visitor is conversant with your blog and may have bookmarked your blog URL.
Social Traffic – Social traffic is the traffic that is referred to your blog via social media platforms or social networks. For e.g. Facebook, Instagram or Twitter etc. As per Hubspot marketing statistics, global social media users are expected to touch 3.43 billion in 2023.  
The referral traffic examples include:
Guest Posting
Guest blogging or Guest posting means writing and publishing a blog post on other blogs that are in the same or related niche. You can place a few links back to your site when you submit a guest post.
Blog Comments
You can leave helpful comments on other bloggers' blog posts. The visitors can respond to your comments and even reach you using links in the comments
Email marketing
Email marketing allows you to send emails to your subscribers. You can place links in your email content. This will help you in generating traffic back to your site. Check this article on how to use MailChimp for email marketing.
The major Social traffic platforms you can use to drive traffic to your blog are:
Facebook
Facebooks have approx. 3 billion monthly active users. There are multiple ways you can generate traffic to your blog some of them are:
Create a Facebook Fan page. The fan page should be relevant to your blog niche.
You can create your own Facebook Group or join other groups with a large following. Contribute to the group and place your links wherever needed. Do not spam the groups with your posts or comments containing your blog post links.
YouTube
YouTube is visited by over 2 billion logged-in users each month. Visitors watch about a billion hours of video, generating over a billion views. You can drive traffic from your YouTube channel to your blog by placing the blog post comments in the description of the YouTube video.
Forums
A forum is a website that allows users to communicate with each other and discuss various issues related to their niche. You can place your blog links while contributing to the discussion in a useful manner.
Here are some of the tips to generate traffic from forums:
Join the Forum that is relevant to your niche.
Use your signature to add a link back to your site.
Post regularly so that others start recognizing you.
Pinterest
This social site boasts of having  459 million global active users every month as per their January 2021 data. (Pinterest, 2021). Women form more than 60% of Pinterest's global audience.
Some of the tips to generate traffic from Pinterest:
Sign up for a business account.
Create a professional Pinterest profile.
Create 10-15 boards based on your blog categories or niche topics.
Enable rich pins
Add the keywords to your pins.
Twitter
As per Statista, Twitter has 166 million global daily, active users. It is one of the most popular micro-blogging sites. It enables you to share short messages with your audience. 
Tips to drive traffic from Twitter:
Use hashtags, they help you reach the audience beyond your followers
Make creative use of mentions by using @username.
Tweet statics and quotes as people love reading statics and quotes.
Reddit
Reddit has over 430 million monthly active users with more than 100,000 active communities (Backlinko). It ranks among the top social networks worldwide. 
Tips for driving traffic from Reddit:
Start following the subreddits related to your blog niche.
Comment on the subreddit posts.
Post your link wherever needed without spamming.
Try earning the Karma, then only share your links in the comments.
Quora
Quora has about 190 million monthly users. It has more than 300 million monthly unique visitors. More than 54% of all users have an annual income of $100,000.
It is a question-and-answer (QnA) site. These questions often appear in google search results.
Tips to generate traffic from Quora:
Complete your Quora Profile with a link to your blog.
Add the topic that you know about.
Stay active and contribute regularly.
Target the question that shows up in Google results.
Add useful comments to the answers.
Driving Blog Traffic Using Paid Methods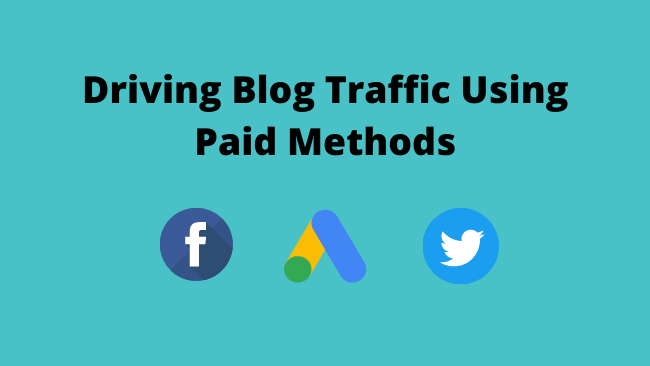 Paid traffic is the traffic that you drive to your blog by paying for it. For e.g. paid promotions or advertising.   It helps in generating instantaneous blog traffic. If you want quick results you can go for paid traffic sources. 
Paid traffic has an average return on investment (ROI) of approx. 200%. In simple terms, every $1 spent returns $2. 
Facebook Ads
Facebook Ads can help you generate traffic for cheap with proper targeting.  It can remarket to the people you had any interaction with in the past. FB ads help you target your exact audience based on age, location, language, interest or behavior etc.
Google Ads
Google Ads or AdWords is pay per click (PPC) advertising platform. Advertisers can place ads both on the Google search results and non-search entities like websites, apps and videos. 
The Google ads put your offer in front of the people who are searching for it.
Bing Ads
Bing Ads is a pay-per-click platform by Microsoft. Microsoft owns three search engines, Bing, Yahoo and AOL. If you advertise on any one of them, your ad will be shown on all three.
Approx. 63 million searches are made on the Bing search engine. It forms a substantial amount of traffic.
Twitter ads
Twitter ads help you target the people who have used a specific keyword or hashtag in the previous seven days. You can target Twitter users following a particular account. It's the only platform where you pay only when your marketing aim is achieved.
Due to low advertising competition on Twitter ads, it is quite cheap compared to other ad platforms.
Instagram Ads
Instagram ads appear just like normal Instagram posts. The only difference is the "Sponsored" label. A call to action button can be included to drive traffic to your blog.
The Best Method Of Driving Traffic For Beginners?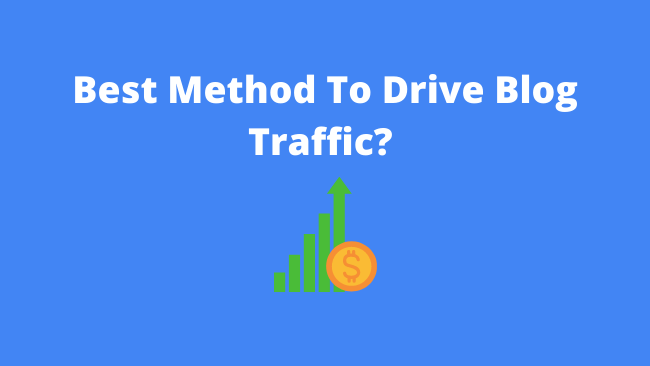 The best method of driving blog traffic for beginner bloggers depends on whether you want to use a free method or paid method.
The best tip I can give you is to pick up one method. Keep on working on the method till you master it. Then, carry on with all the others one by one.
If you want to go for the free method that is Organic traffic. You should learn and experiment with Search engine Optimization (SEO). Check out the post on how to learn SEO free. 
FAQ's
How can I drive more traffic to my blog?
To drive more traffic to your blog, you can use various strategies. For e.g. optimize content for search engines and promote your blog on social media platforms. Engage with your audience through comments and social sharing. Collaborate with other bloggers for guest posts or collaborations. Use email marketing to reach out to your subscribers.
Is it important to optimize my blog for search engines?
Yes, optimizing your blog for search engines is crucial for driving organic traffic. Use Search engine optimization (SEO) techniques. E.g. using relevant keywords, creating high-quality content, optimizing meta tags, and building backlinks. This will improve your blog's ranking on search engine result pages. Thus, attracting more visitors.
How can I promote my blog on social media?
To promote your blog on social media, you can start by creating profiles on popular platforms. For e.g. Facebook, Twitter, Instagram, and LinkedIn. Share your blog posts and engage with your followers. Join relevant groups or communities, and use appropriate hashtags to expand your reach. Consider running paid social media campaigns to target specific audiences. This will drive more traffic to your blog.
What is the importance of engaging with my blog audience?
Engaging with your blog audience is vital. It helps in building a loyal community and encourages repeat visits. Respond to comments and address visitor queries. This is how you build trust with your readers. This engagement not only enhances the user experience but also encourages social sharing. It also helps in word-of-mouth promotion, driving more traffic to your blog.
How can guest posting help drive traffic to my blog?
Guest posting involves writing articles for other established blogs in your niche. By contributing valuable content to these blogs, you tap into their existing audience. This way you redirect readers back to your blog through author bios or relevant links. Guest posting not only helps in increasing your blog's exposure. It also enhances your credibility as an industry expert. Thereby driving more traffic to your own blog.
How long does it take to see results from my efforts to increase blog traffic?
It can take time to see results from your efforts to increase blog traffic. It depends on factors like the quality of your content. The competitiveness of your niche, and the effectiveness of your marketing strategies. But, with persistence and consistent efforts. you can build your audience and increase your blog traffic over time
Conclusion
For driving traffic to your blog you need to satisfy the following three conditions:
Create amazing content.
Figure out where your target audience hangs out. For e.g. forums, groups or sites. 
Connect your content to the target audience.
We have discussed both the free as well as paid methods for the promotion of your blog. Pick out any one method and master it before jumping on to another method.
If you want fast results you can use paid methods. Whereas the free methods take time to generate blog traffic.
How are you planning to drive blog traffic to your blog? Using the free or paid method?